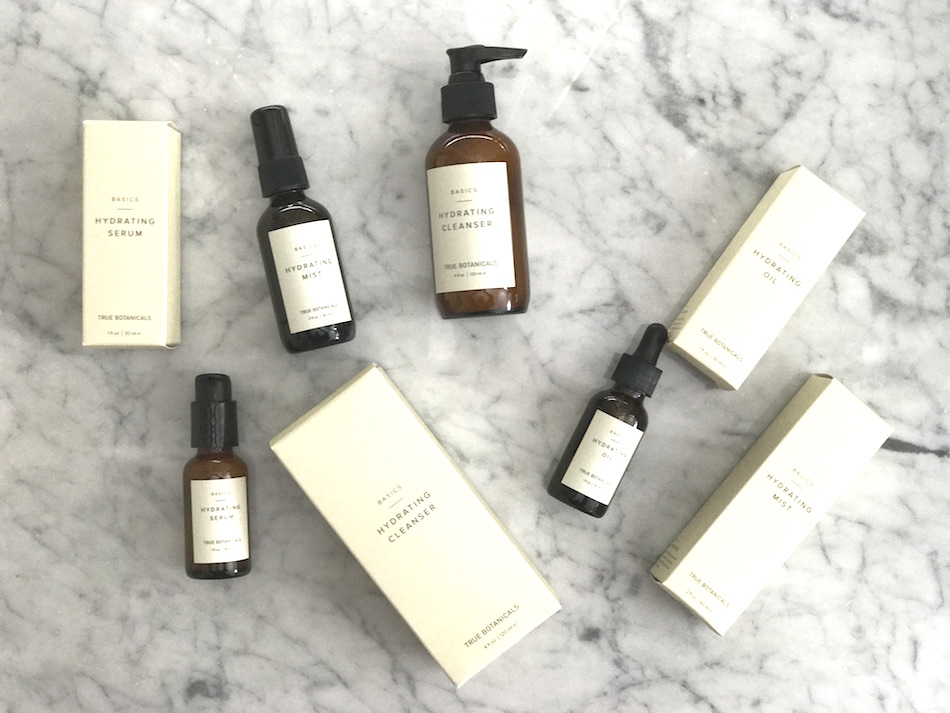 Last month, True Botanicals launched a much-needed new line, BASICS.  I wrote all about it here, but something I did not discuss much is that it is 100% safe for pregnancy.  Personally, after a lot of research, I felt very comfortable using True Botanicals CLEAR line on my acne-prone throughout my second pregnancy, but some pregnant women – and virtually all dermatologists – are more wary of the use of botanicals and essentials oils during those nine months.  BASICS is free of a few "controversial" natural ingredients that are present in True Botanicals' other collections: Jasmine Oil, Black Cumin Seed Oil, Carrot Seed Oil and Willow Bark Extract, so even the most conservative dermatologist could recommend these products.
For those of you who've been reading for a while, and know about my history with acne, let me start by saying that I used this line for a few weeks, and it did NOT break me out.  My skin is not as acne-prone as it once was, but I am still very particular about what I use, and this line was not too heavy, and didn't clog my pores at all.
The BASICS Hydrating Cleanser is similar to the texture of True Botanicals' other cleansers.  It's got a milky-jelly texture and a subtle lather.  It takes some getting used to, but if I can make the switch, anyone can – I absolutely love their cleansers, and I used to be a suds junkie.  This cleanser is rich in aloe, green and white tea, and green tea (camelia) oil, which is high in antioxidants and breaks down the oil complex that binds dead skin cells together so they're easier to remove.
Talk to anyone who uses a quality toner, mist, or hydrosol, and they will tell you they don't know how they ever lived without one.  I am one of those people.  What sounds like an unnecessary step in your skincare routine is actually really important.  A good toning mist will pull moisture into the skin, tone the skin, prep it for face oils and serums, and make those products work more effectively.  The BASICS Hydrating Mist is refreshing and works just as well as any of the other True Botanicals mists.  Again, aloe and green and white tea are the stars here, which are full of antioxidants that your skin will drink right up.
True Botanicals founder, Hillary Peterson says, When therapeutic oils are applied to the skin without the interference of waxes, they can be absorbed directly into the top layers of the epidermis, where they instantly go to work to improve lipid barrier function. By replenishing the oils you've lost due to natural attrition and exposure, you enable your skin to properly do its job: hold moisture in and keep the elements like sun and wind out.  So, don't be a dummy and use Ceravé or Cetaphil; they are (in the words of Spirit Demerson, one of the pioneers of the clean beauty movement) "the equivalent of toxic sludge".  True Botanicals BASICS Hydrating Oil doesn't just moisturize; all the nutritious ingredients (specifically green tea, hemp, red raspberry, chia and jojoba oils) it contains are also preventative.  I promise you, once you use the right face oil for a couple of weeks, you will never, ever go back to creams or lotions.
Wonky hormones are often the cause of unusually dry skin during pregnancy.  The BASICS Hydrating Serum contains Sodium Hyaluronate, which holds 1,000xs its weight in water and is able to penetrate your skin, providing serious, long-lasting hydration at a cellular level.  Sodium Alginate, which is derived from brown algae, is a water-soluble polysaccharide that provides moisture to hydrate, soften, and improve skin texture.  Good ol' green and white tea leaf extract provide antioxidant power.
With all the ingredients, products and foods that are contraindicated during pregnancy, it is a relief that there is a skincare regimen I can whole-heartedly recommend that is not only gentle, but truly nontoxic.  If you are new to True Botanicals, use code JESSICATRUE20 for $20 off your first order.
…..
SaveSave
SaveSave
SaveSave
I've spent almost a decade immersed in the world of green beauty and nontoxic living. I want to help you find everything from a killer lipstick to a nontoxic laundry detergent, and beyond. Subscribe to a healthier lifestyle with me.

Thank you for subscribing!