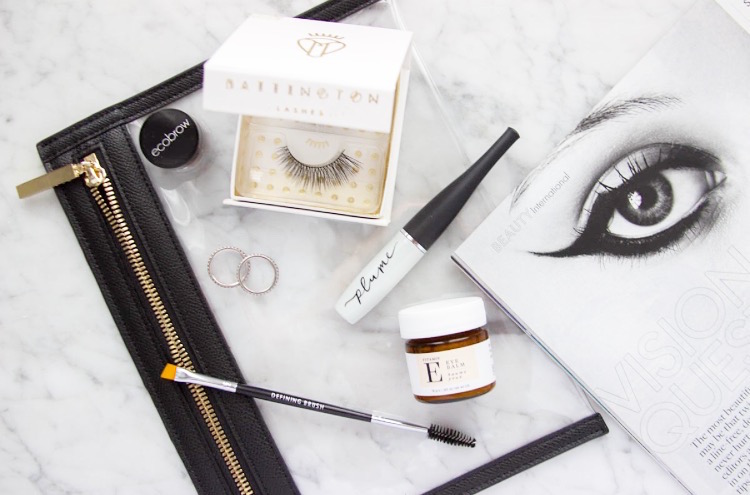 Hey there, Bare Beauties.  I've been so impressed with a few products lately, and it just occurred to me that they are all about the eyes.  If your eyes aren't in good shape, it doesn't matter how on-point the rest of your makeup is, so it's important to take care of them and to be gentle – you only get one set!  Personally, when I get enough rest and eat well (no dairy, sugar, alcohol, etc.) my eyes look their best, but usually I need a little more help.  Here are some of my current favorites.
I love the way false (synthetic) lashes look, but even for big events, I often skip them because they feel so heavy, and they aren't biodegradable.  I've heard that mink lashes are more comfortable and look real, but it's just cruel, and so unnecessary.  Battington Lashes has filled a void in the falsie market, and I hopped right on their bandwagon.  These 100% pure silk, hand-made lashes look real, and they're cruelty-free and light as a feather to boot.  They also have styles that range from barely-detectable to full-on glam, so there is a style for everyone and every occasion.  I'm obsessed with the Kennedy style that I recently wore for a photoshoot.  They were very comfortable, even for someone who isn't used to wearing falsies very often (me).  It's amazing what a difference they make in one's appearance; I felt like I looked younger, sexier and more awake.
I've been using Plume All-Natural Eyelash Enhancing Serum for about 8 months, and it WORKS.  This product didn't sting or irritate my eyes at all, and within 4 weeks, I saw amazing results.  I really wish I had taken a "before" picture.  My lashes are definitely longer and fuller, and because Plume is totally natural, you can use it while pregnant or nursing.  Plume works by stimulating follicle growth while hydrating and protecting; lashes grow longer and stronger, so they don't fall out as often as they do when you use nothing.  Ingredients like organic Aloe Aera, Castor Oil and Honey Extract moisturize and provide anti-fungal and antibacterial properties; ingredients like Watercress, Indian Cress, Coltsfoot Flower, Yarrow Flower and Peruvian Bark Extract have seemingly magical hair lengthening and strengthening powers.  There are two ingredients that sound a bit sketchy, but aren't: Sucrose Laurate is an emulsifier that is naturally obtained from hydrogenation and esterification of sugar cane and vegetable oil; Sodium Stearoyl Lactylate is a natural, food grade emulsifier derived from stearic acid (plant-derived) and the sodium salt of lactic acid.  What doesn't it contain? Parabens, Sulfates, Phthalates, Hormones, Prostaglandins, Artificial fragrances, Artificial dyes or Gluten, which brings me to the reason you shouldn't be using mainstream lash or brown growth enhancers.  Phenoxyethanol, a preservative, is the third ingredient in Revitalash, and I generally try to stay away from it (unless it is the very last ingredient in an otherwise extremely Clean formula that I cannot live without).  It is a known eye irritant, and it depresses the central nervous system.  It's also been banned in nipple cream.  Latisse's second ingredient is benzalkonium chloride, which is also a preservative that causes eye irritation and respiratory problems.  Both of these formulas also contain prostaglandins, which are basically hormones.  I could go on and on; there are a lot of nasty ingredients in mainstream lash enhancers.  No thanks!
If you are a slave to your brows, (and who isn't these days) chances are, you don't just use a measly brow pencil to fill in and shape.  Anastasia Beverly Hills Dipbrow Pomade and Duo Brush #7 has a cult following, but with ingredients like Polyethylene and Propylparaben, I'll pass.  In the last few months, I've fallen in love with EcoBrow Defining Wax and Defining Brush, which could totally pass for Anatasia in a blind test.  The waterproof formula glides right on and really sits within the little hairs instead of on the skin, so brows look natural, not drawn on.  I like to put a good coating of the wax on the angled brush and apply it – with a very light hand – in short, hairlike strokes.  Then, I blend it with the spooly end of the brush.  If you want to look polished and awake (and like you've maybe had Botox) in just a few seconds, look no further.  (P.S. I wear Sharon.)
A lot of the older women in my family are hooked on using One Love Organics Vitamin E Eye Balm at bedtime, and I love using it when the weather turns cold and dry, or if my eyes are feeling particularly irritated after a long day (many eye creams are just not gentle enough for my ultra-sensitive peepers).  You can also use it during the day, but if you wear makeup, apply the balm sparingly; it is very rich.  A powerful blend of Vitamin E, organic shea butter, pomegranate and sea kelp, this luxurious, intensely rich eye balm helps to smooth, firm and provide continuous hydration.  If your eyes need relief, this eye balm is going to be your savior.
Don't forget to use my personal discount code, BB10, for 10% off at LeVert Beauty!
What are your favorite products for the eyes?  Anything you're looking to switch out for a Cleaner option?
…..
I've spent almost a decade immersed in the world of green beauty and nontoxic living. I want to help you find everything from a killer lipstick to a nontoxic laundry detergent, and beyond. Subscribe to a healthier lifestyle with me.

Thank you for subscribing!