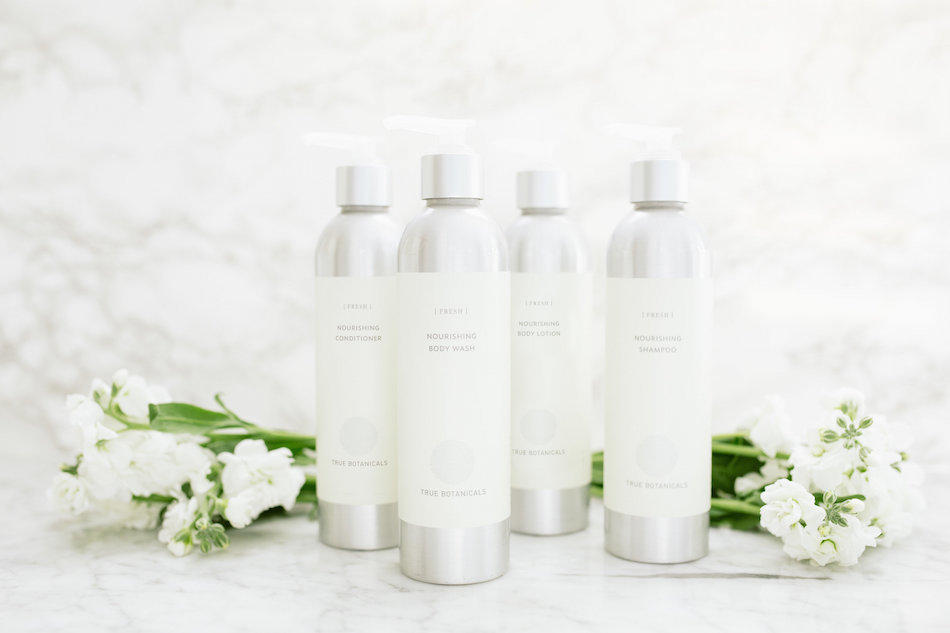 Every January, there is talk of detoxing and new beginnings, and while I am so NOT detoxing at 36.5 weeks pregnant, I can always get on board with recommending clean replacements for toxic bath, body and haircare products.  True Botanicals makes some of my favorite not-so-basic basics.  They offer totally clean, totally effective formulas that also provide nourishing, anti-aging and anti-inflammatory benefits.  These "basics" also all share True Botanicals' signature essential oil-based FRESH scent, which has notes of Citrus, Ylang Ylang, Sweet Violet and Mimosa; it is a very light, uplifting, year-round fragrance.  And, the packaging!  The chic silver packaging is made of aluminum, so not only is is shower and tile-safe, it is most certainly more desirable than plastic.  A win-win!
Conventional body wash and soap cleanses just fine – it employs industrial-grade surfactants like sodium laurel/laureth sulfate to wash away oil and grime.  However, it will also wash away your skins natural oils, leaving you flaky and ashy.  Ew.  True Botanicals FRESH Nourishing Body Wash has a rich lather that comes from Decyl Glucoside, which is a gentle, coconut-derived surfactant.  It also contains the antioxidant power of Green & White Tea and Olive Leaf Extract, along with the moisture-locking capabilities of Aloe Leaf Extract.  This is a truly luxurious anti-aging body wash.
I've said it a million times, but I'll say it again!  If you switch out ONE product, make it body lotion.  Conventional body lotions are applied to the entire body – that's a pretty large surface area.  And, they aren't even rinsed right back off; instead, they sink in to the skin and the ingredients enter your bloodstream in just minutes.  It's so, so important to use a clean body lotion.  True Botanicals FRESH Nourishing Body Lotion is one of the best I've ever tried.  It is incredibly hydrating, locking in moisture for a full 24 hours.  However, it is also feather-light and absorbed by the skin in just seconds.  No greasy residue here!  Green & White Tea and Green Tea Oil provide anti-aging, anti-inflammatory benefits while Shea Butter acts as a humectant, creating a physical barrier and decreasing water-loss.
As if you weren't worried enough that your skin is aging, your eyes are aging, your a$$ is aging….  I've got news: your hair is aging, too.  Conventional shampoo and conditioner aren't helping matters – they are drying out your hair and poisoning your ultra-porous scalp with Sodium Laureth Sulfate, parabens, phthalates, and they contain countless carcinogenic byproducts that aren't even on the label (!)  There are a lot of Green shampoos and conditioners on the market, but honestly, only a few have passed my test.  I'm very particular: I want a good, safe lather, I want to smell like a spring breeze, and I want a guaranteed good hair day.  I don't think it's too much to ask.
True Botanicals has developed a shampoo and conditioner that works for all hair types.  I'm so excited to share them with you, because they are really, really good!  True Botanicals FRESH Nourishing Shampoo's luscious lather comes from Cocamidopropyl Hydroxysultaine.  It may sound like a scary chemical, but it's just a mild, coconut-derived surfactant.  Other key ingredients include Aloe Barbadensis Leaf Juice Powder, which soothes and balances the scalp, Meadowfoam Seed Oil, which helps to lock in moisture, and True Botanicals' star ingredient, Green Tea Oil.  Part exfoliant, part lubricant, green tea oil reduces flaking, improves appearance and protects hair from environmental damage.  Instead of silicones, mineral oils and synthetic fragrance, True Botanicals FRESH Nourishing Conditioner uses Shea Butter, Green Tea Oil, Macadamia Ternifolia Seed Oil and Aloe Barbadensis Leaf Juice Powder.  My hair is left shiny, silky and moisturized, but not at all weighed down (only use a small pump of the conditioner if you have fine hair!).  And, it smells amazing.
By the way, I'm taking over True Botanicals' Instagram account tomorrow (@truebotanicals).  Come see me talk about my favorite products, how I use them, and ask me questions!
…..
I've spent almost a decade immersed in the world of green beauty and nontoxic living. I want to help you find everything from a killer lipstick to a nontoxic laundry detergent, and beyond. Subscribe to a healthier lifestyle with me.

Thank you for subscribing!