When it comes to makeup, women are definitely creatures of habit.  Lately, I've heard friends and readers alike comment on how they really want to make the switch to Green Beauty, but there are a few conventional products that they've been using forever, and they just are sooo hesitant to part with them.  Isn't it funny how we can go through 5 boyfriends, 6 jobs and 3 cities in 10 years and still use the same blush?!  Over the years, I've discovered some amazing replacements for my old standbys, and starting today, I'm going to start sharing them with you regularly.  Here we go, Bare Beauty Swaps, Volume 1:
If you are a slave to your brows, (and who isn't these days) chances are, you don't just use a measly brow pencil to fill in and shape.  Anastasia Beverly Hills Dipbrow Pomade and Duo Brush #7 has a cult following, but with ingredients like Polyethylene and Propylparaben, I'll pass.  In the last few months, I've fallen in love with EcoBrow Defining Wax and Defining Brush, which could totally pass for Anatasia in a blind test.  The waterproof formula glides right on and really sits within the little hairs instead of on the skin, so brows look natural, not drawn on.  I like to put a good coating of the wax on the angled brush and apply it – with a very light hand – in short, hairlike strokes.  Then, I blend it with the spooly end of the brush.  If you want to look polished and awake (and like you've maybe had Botox) in just a few seconds, look no further.  (P.S. I wear Marilyn.)
I've never been much of a foundation girl, but I used to LOVE Giorgio Armani Luminous Silk Foundation because it didn't look or feel like I was wearing a ton of makeup.  It was what I (and every major makeup artist in the world) would reach for on a big night when I wanted to look my best.  Unfortunately, it contains a host of toxic ingredients like Benzyl Salicylate, Parabens and Ethylhexyl Methoxycinnamate.  Liquid foundation in the Green Beauty world can be tricky.  However, Vapour Organic Beauty Atmosphere Soft Focus Foundation is one of the only foundations I've ever loved, and it's a perfect Green Beauty match to Armani.  This hydrating foundation totally blurs imperfections on the skin, just like a soft focus lens (hence the name).  It leaves skin looking luminous and dewy, but not greasy, and you'll only need to use a setting powder if you have very oily skin.  Atmosphere Soft Focus comes in 12 shades that match skin easily because of the formula's light, silky consistency.  And, in addition to the beautiful coverage it gives, this foundation is actually nourishing.  A Pumpkin and Papaya Complex brightens the skin along with organic Camellia, and the formula is infused with Vapour's face-specific infusion of soothing Frankincense, antioxidant Tulsi, and calming Lotus.  (P.S. I wear S123).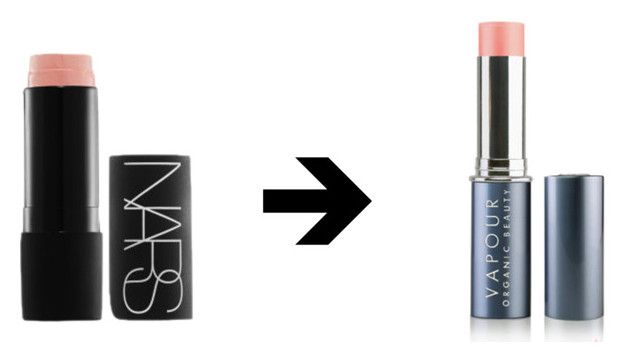 Almost every caucasian woman I know uses or has used Nars Blush, be it the stick or the powder formula, in Orgasm.  Besides the marketing-genius name, the color is beautiful and works on many skin tones.  As an aside, in my humble opinion, everyone over the age of 30 should be wearing cream blush (once again you were right, Mom).  I wore this blush for about six years, but once I learned that it contains BHA, Triclosan and Parabens, it was one of the first cosmetics I set out to replace.  I searched long and hard, and there were a lot of losers out there, ladies.  Luckily, Vapour Organics came to the rescue once again with some gorgeous shades of their Aura Multi Use Blush Stick.  That's right, there are actually a few shades that substitute beautifully, depending on whether or not you like shimmer in your blush.  If you do like shimmer, try Aura Multi Use Radiant Blush in Intrigue.  I prefer to leave the shimmer to my highlighter, so I prefer a satin-finish blush.  My favorite Aura Multi Use Classic Blush color is Spark.  And, if you want an even bolder, more pink option, Torch is also gorgeous.  This blush is nourishing, subtle, buildable and wears well.  And, I love a stick formula that I can just throw in my bag and use on my lips when I'm in a hurry.
You can get all of these amazing alternatives at LeVert Beauty.  And, since we're friends, I'll give you my 10% discount, just enter code BB10 at checkout!
That's it for today.  I have many more Bare Beauty Swaps coming your way, but I'm dying to know, what are you dying to know?
…..
I've spent almost a decade immersed in the world of green beauty and nontoxic living. I want to help you find everything from a killer lipstick to a nontoxic laundry detergent, and beyond. Subscribe to a healthier lifestyle with me.

Thank you for subscribing!