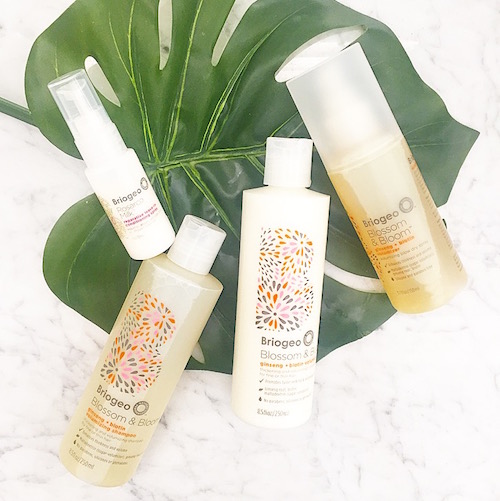 Good afternoon, Bare Beauties!  Today's post is short and sweet.  I recently tried Briogeo's haircare line, (scroll down for 10% OFF!) and I really love it.     Clean hair products that grant my every wish have been hard for me to come by in the past, but there are more and more options out there lately, which is such a relief for us die-hard Green Beauty junkies.
Briogeo makes products for many hair types and needs (damaged, curls, volumizing, etc.), and they don't just stop at plain ol' shampoo and conditioner.  I also like how transparent Briogeo is when talking about their ingredients; while this product line is not pure enough to eat, I can tell that they are very conscious about what they put in their formulas.  And let's face it, haircare also has to WORK.  Briogeo uses at least 93% natural ingredients in all of their products, and they are all free of Sulfates, Parabens, Phthalates, DEA, Artificial Dyes, Silicones, Benzalkonium Chloride, Benzophenone, Bisphenol A (BPA), Butoxyethanol, Coal Tar Dyes, EDTA, Ethanolamines (MEA/DEA/TEA), Formaldehyde, Hydroquinone, Liquid Paraffin, Liquid Petrolatum, Methyl Cellosolve, Methylisothiazolinone, Methylchloroisothiazolinone, Mercury, Mercury Compounds, Mineral Oil, Oxybenzone, Paraffin Oil, Polyethylene Glycol (PEGs), Resorcinol, Retinyl Palmitate, Retinol, Siloxanes, Thimerosal, Toluene, Triclosan, and Triclocarban.
These are the products I've been using:
Using the three products above, together, has left my hair feeling and looking thicker and has given it more volume.  My hair feels clean, silky and soft all day, but I still have to wash every day (I have fine hair and an oily scalp, so that's just me).  None of these products make my hair feel stiff or sticky or dry; I'm in love!
Rosario Milk Leave-In Conditioning Spray: I've been using this on Annabel's hair after the bath, or sometimes on both of us while we are at the beach or pool.  It's awesome, and you really don't need any other conditioners when you use this.  This detangler is also great as a heat-protectant, and it doesn't weigh hair down at all.  I've been looking for a "mommy-and-me" detangled, and I think I've finally found it.
Have you tried Briogeo?  What's your favorite natural haircare line?
…..
I've spent almost a decade immersed in the world of green beauty and nontoxic living. I want to help you find everything from a killer lipstick to a nontoxic laundry detergent, and beyond. Subscribe to a healthier lifestyle with me.

Thank you for subscribing!