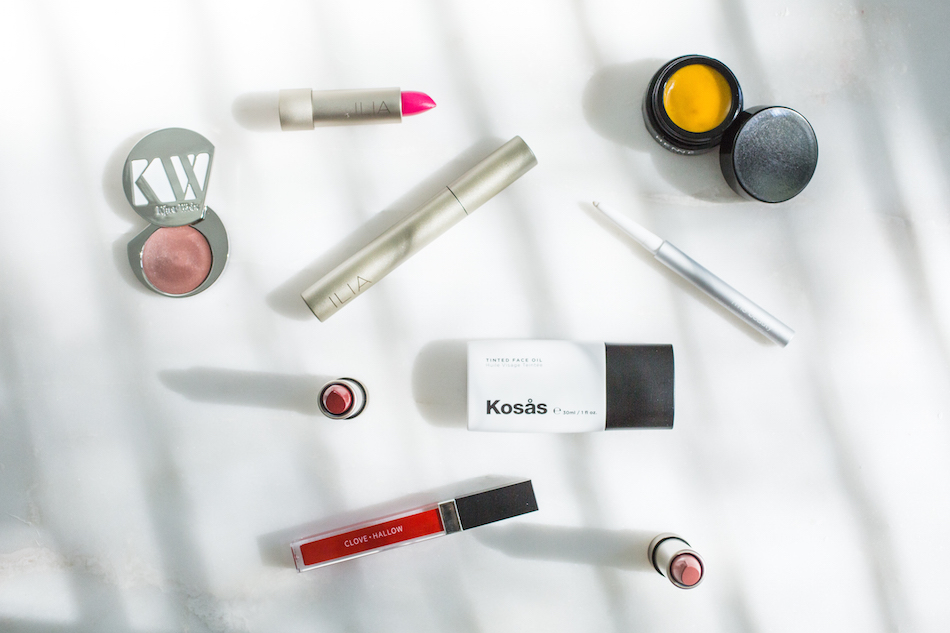 It's Halloween, so I'm going to make this a quick post.  (I'm so excited to take the kids trick or treating in our new neighborhood tonight!)  I recently went into AILLEA, and there were so many new releases.  I picked up one of each to try and review for you.  True Botanicals also just launched their new aromatherapy collection, and I'm already in love.  I'm a summertime girl at heart, but I do love the fresh start of fall, and all the beautiful products that come along with it.
Ilia Color Block Lipstick: Ilia Beauty recently discontinued their old lipstick formula and replaced it with this one.  It is amazing! (I loved so many of the old colors – RIP, 99 Red Balloons – but they dried out my lips a bit.)  This lipstick is very highly pigmented, and very creamy.  One swipe is all you need, which makes application a breeze.  It lasts longer than the old formula did, and my lips are left moisturized, even the next day.  I love Amber Light, Knockout, and Rumba.
Ilia Limitless Lash Mascara: You guys know how I am about nontoxic mascara.  The only one I have ever repurchased in 7 years of using clean beauty is Lily Lolo (everything smudges and gives me raccoon eyes).  But, I think I finally have another option!  This new formula builds a bit of volume, lengthens, and goes on evenly, from root to tip.  It doesn't smudge, flake or clump.  I think we have a winner!  (Also, this sells out pretty much the moment it is restocked, so hop on it.)
Kosas Tinted Face Oil: Talk about a gorgeous formula.  This tinted face oil is feather-light, velvety-soft, and leaves the most beautiful, semi-matte finish on the skin.  It's truly a skincare-meets-makeup product.  The coverage is light, but it blurs imperfections and evens out skin tone very well.  It only takes 10 seconds to apply, and there is no blending required.  Score.
Kjaer Weis Cream Eye Shadow: Just, wow.  Those of you who find the RMS Beauty Eye Polish too oily, (it is still one of my favorites, personally) but still want a cream shadow, your search is over.  This formula is blend-able and build-able.  I smudge mine on with my fingers, but you can also use a brush to build the saturation for more intense color payoff.  I own Gorgeous; I am obsessed, and I am going back for the other colors!
Clove and Hallow Lip Velvet: You aren't going to believe this formula is nontoxic.  This long-wearing matte lip stain stays put through eating and drinking.  It. Doesn't. Budge.  (Just allow 10-15 minutes for it to fully set.)  Full disclosure: your lips will feel dry the next day; this is for a night out, or an event; not for everyday wear.  I wore the warm red Fiesta the other night, and I got lots of compliments.
RMS Multeyetasker in Living Luminizer: This soft little pencil is pure magic – it fakes sleep, youth, health, etc, etc.  When the rims around your eyes (the waterline) are pink, you just look haggard, no matter how much makeup you have on.  Swipe this little guy on your water line and the inner corner of your eyes, and voila.  Your eyes look bright and perky.  It's my new favorite trick, and it only takes 10 seconds.
True Botoanicals Aromatherapy Collection is legit.  There are so many essential oil and aromatherapy products out there these days.  Since most essential oils are adulterated, I appreciate that a company that I trust so much has taken on this category.  Roller ball vials are my favorite way to experience aromatherapy.  For an immediate effect, I roll the Stress Relief blend on my inner wrists and on the palms of my hands, and I cup my hands around my nose and mouth, and create deeply for at least 30 seconds.  This blend, which includes Tarragon, Frankincense, and Sandalwood works.  I roll the Muscle Release blend directly onto sore muscles.  Whether I've been too sedentary, or too active, this blend, which includes Roman Chamomile, Clary Sage, and Orange Peel loosens me up.  I like to apply it to my shoulders and chest before yoga.  A blend of antiviral and antibacterial oils, like ravintsara, bay laurel, and balsam fir are in the Immunity Blend.  This formula is antibacterial and antiviral, and boosts the immune system.  This can be applied to the chest, throat and behind the ears (to aid lymph drainage).  It is even supposed to speed recovery if you get sick!
Off to trick-or-treat with the kiddos!  Follow along on Instagram!
…..
I've spent almost a decade immersed in the world of green beauty and nontoxic living. I want to help you find everything from a killer lipstick to a nontoxic laundry detergent, and beyond. Subscribe to a healthier lifestyle with me.

Thank you for subscribing!