So many game changers have been released this fall!  I've picked up a few things that I haven't been able to put down since receiving them.  I like that
Integrity Botanicals
is fast to pick up new releases, but only if the product is
good
.  It makes shopping for effective clean beauty that much easier.
I have to start with my favorite because I am just so excited about it.  
Vapour Organic Beauty
recently released
AER Next Level Deodorant
, and the name says it all.  It IS next level stuff.  I have not been this excited about nontoxic deodorant in a long, long time.  This silky gel-to-powder formula keeps me dry and stink-free unlike anything else I've ever tried.  I never have to reapply midday – in fact, I even wake up smelling good when I use this stuff.  I love that I don't have to dig into a jar to apply, and a little goes a long way.  Also worth noting is that it is the only formula that contains baking soda (sodium bicarbonate) that doesn't irritate my skin. (I'm usually limited to using baking soda-free formulas.)  This is my holy grail deodorant.  While everyone's body chemistry is different, and deodorant is personal, I have to say that if you don't give this one a try, you are crazy!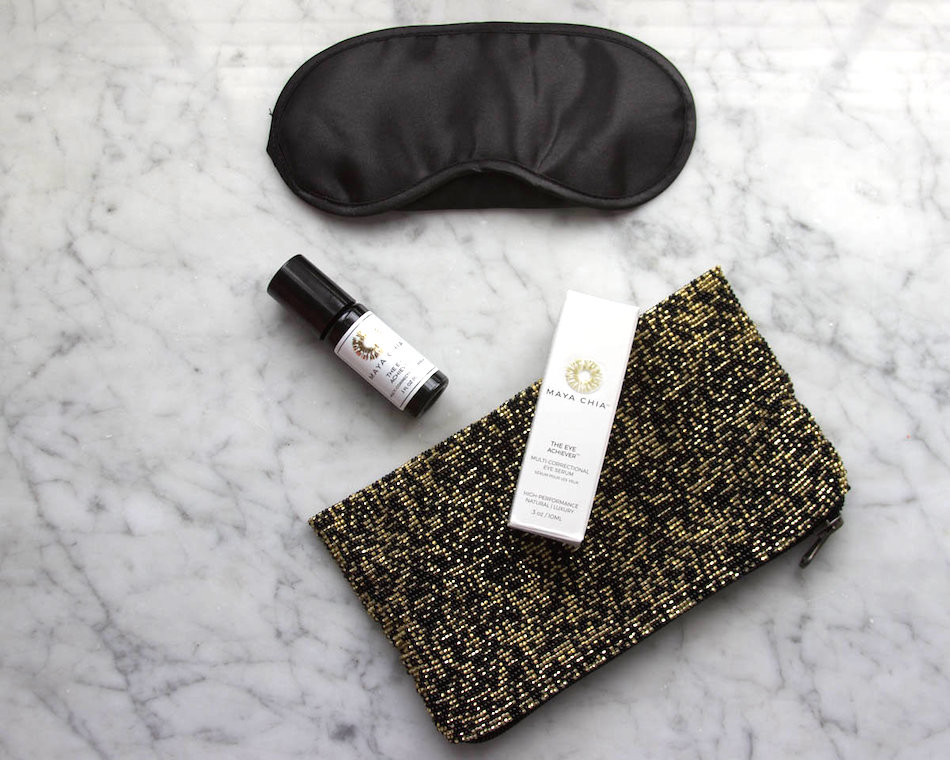 If you've been reading Bare Beauty for a while, you know that I am a fan of eye serums over eye creams; I just find them to work more effectively.  I'm also a fan of every single product Susanne Norwitz of
Maya Chia
has ever created, and her new
The Eye Acheiver
is no different.  This eye serum is packed full of hard working, powerhouse ingredients, (namely 5 macro and micro-algae extracts: astaxanthin, sea fennel, sea lavender, wakame and algae extract) and it really delivers.  It absorbs very quickly, and I can apply concealer and eye makeup right on top of it with no problem.  I've been using this for a month, and I've definitely noticed less puffiness.
Henné Organics
recently launched a few new products, and they are also all winners.  (Their original lip balm is my all-time favorite.)  Their new
Luxury Lip Tint
is exactly what you need in your bag.  Their original healing formula is offered in four shades (
Bare
is my favorite, naturally), and I love that I can just swipe it on without a mirror.  These are also essential oil-free, so they're perfect for those with sensitive skin.  Henné also released two new flavors of their amazing
Lip Exfoliator
,
Lavender Mint
and
Nordic Berry
.  It's like dessert without the calories.  🙂
I became familiar with
Max and Me
a few months back and really fell in love with their
Circle of Protection
aromatherapy Body Oil.  Max and Me makes really special, high-vibe formulas that go beyond treating the skin – they also treat the mind and soul.  If you are into the woo-woo stuff (I totally am), you will love this line.  Using their products has been a real education for me.  For example, did you know that Jasmine supports the Qi-energy of the heart, calms the nerves and uplifts the mind, helps with anxiety and restlessness, and enhances intuition, or that Rose Damask makes you receptive for universal love, and dissolves blocks in the aura?  
Journey in Time
is great for meditation, and
Flight to the Sun
imparts a feeling of inner strength (yes, really).  These need to be tried to be believed.  They are so good.
Ouli's Ointment
 is just something you should have in your bag all the time.  Made in a base of organic olive oil, sourced from family owned olive groves on the Greek island of Zakynthos, this healing salve can be used on cuts, burns, lips, dry or irritated skin, chapped lips, ragged cuticles, the list goes on.  It's become indispensable around our house, and I like the that the packaging is gender neutral.
I have a desk full of other goodness that I can't wait to share with you!  Stay warm.  🙂
…..
SaveSaveSaveSave
SaveSave
SaveSave
SaveSave
I've spent almost a decade immersed in the world of green beauty and nontoxic living. I want to help you find everything from a killer lipstick to a nontoxic laundry detergent, and beyond. Subscribe to a healthier lifestyle with me.

Thank you for subscribing!