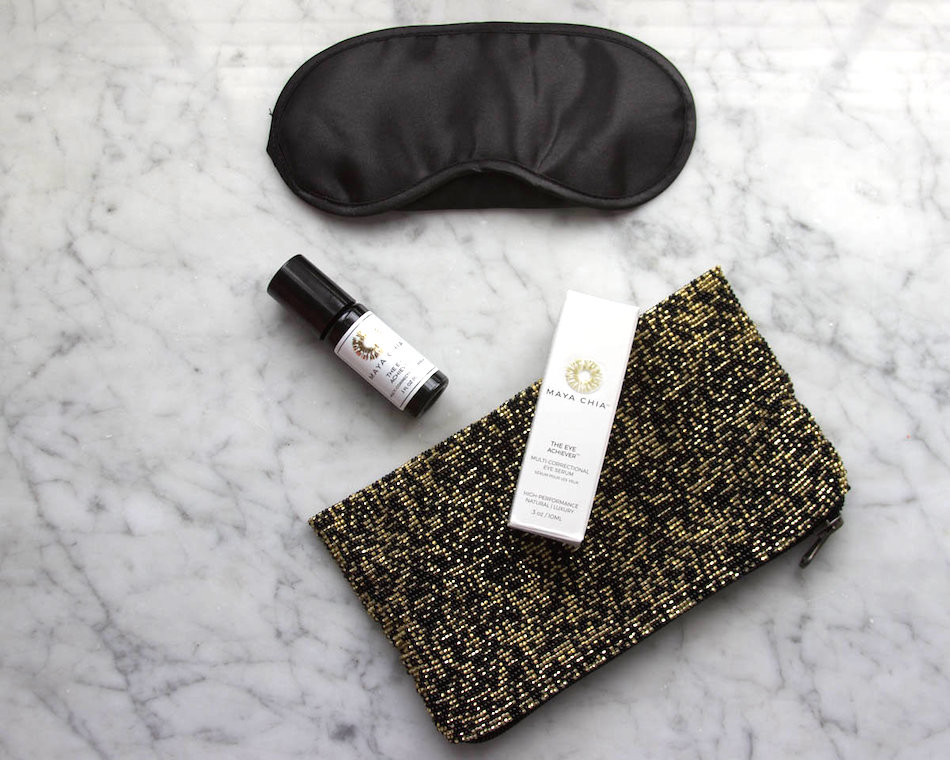 Happy New Year!  I hope you all enjoyed your holidays as much as we did, but I'll write more about that in another post this week.  Right now, let's talk about the amazing January Beauty Heroes Box (that is definitely going to sell out)!  This one is particularly special to me, as I've been using one of the products long before it even launched!
If you've been reading Bare Beauty for a while, you know that I am a fan of eye serums over eye creams; I just generally find them to work more effectively.  Whereas some eye creams can leave a bit of sticky residue on the skin, making makeup more difficult to apply, eye serums usually sink right into the skin, priming and prepping the under-eye area for concealer.  I'm also a fan of every single product Susanne Norwitz of Maya Chia has ever created, and her new The Eye Acheiver Multi Correctional Eye Serum is no different.  This eye serum is packed full of hard working, powerhouse ingredients, (namely 5 macro and micro-algae extracts: astaxanthin, sea fennel, sea lavender, wakame and algae extract) and it really delivers.  It absorbs very quickly, and I can apply concealer and eye makeup right on top of it with no problem (just don't apply too much eye serum or concealer, and you shouldn't have a problem).  Also, how annoying is it when eye creams or serums sting your eyes?!  How do the formulators miss that part?!  Obviously, Susanne did not miss a thing when creating this amazing product.  I've been using it since September, and I've definitely noticed less puffiness and the skin under my eyes seems less crepe-y and dry.  Considering that the skin around the eyes is thin, delicate and quick to fatigue, I've found that The Eye Achiever is most definitely an overachiever.
Like all of Maya Chia's products, The Super Blend Pressed Serum Concentrate is so moisturizing, yet light as a feather on skin.  This must-correctional balm is absorbed into skin on contact, locks moisture in, and it doesn't leave a trace of greasy residue.  My two favorite ingredients in this miracle balm are Chia Oil and Astaxanthin.  Studies show that natural astaxanthin (from the microalgae plant), is 65X stronger than Vitamin C & 14X stronger than Vitamin E in combating free radicals.  Studies have also found astaxanthin enhances the antioxidant actions of vitamin C and E due to synergistic effects.  This translates into restored firmness, resiliency, and a brighter, more even skin tone, among other benefits.  For those with very dry skin, this is perfect to layer on top of your face serum, and for those with normal to oily skin, you can use this in place of a face serum.  This is a great product to "tap" onto skin anytime it's feeling fry throughout the day, too (and whose isn't lately?).
This month's Beauty Heroes Box will be available until January 20th, or until it sells out, whichever comes first (but I think it will sell out fast). This box is valued at $105, but Beauty Heroes members receive it for less than $40.  You can sign up to receive this box here.  And, don't forget that members get 15% off every purchase, every day at the Beauty Heroes Shop, which has an amazing clean beauty selection.
…..
SaveSave
SaveSave
SaveSave
SaveSave
SaveSaveSaveSave
SaveSave
I've spent almost a decade immersed in the world of green beauty and nontoxic living. I want to help you find everything from a killer lipstick to a nontoxic laundry detergent, and beyond. Subscribe to a healthier lifestyle with me.

Thank you for subscribing!