A clean cosmetics line that I don't talk about nearly enough is Lily Lolo.  Yes, I have been raving about their mascara for years, (it is my all-time favorite clean mascara, and I've tried them all), but the rest of the collection is amazing, too!  And, their packaging is really great.  It's sturdy, it's attractive, and the compacts have a really good mirrors inside them, too.   Let's get up to speed, shall we?  SCROLL DOWN FOR A COUPON CODE.
Let's start with their crown jewel.  I've tried every single Clean mascara on the market over the years.  Seriously – I have a drawer full of them to prove it.  I don't know if it is because of the shape of my eyes or because of the other eye products that I use, but not one Clean mascara passed the test.  On me, they all smudged and/or flaked.  Even the ones with a cult following.  Even the ones I really, really wanted to like.  They all gave me total raccoon eyes of varying degrees.  Enter: Lily Lolo Black Vegan Mascara.  This mascara lengthens, volumizes and coats evenly – I love the brush.  It doesn't clump.  It doesn't flake.  It doesn't smudge.  It washes right off.  I don't know what else to say except that I am buy it in bulk and I pray that it is never discontinued – oh, and that Lily Lolo is plant-based, vegan, and made without parabens, phthalates, petrochemicals, sulfates, synthetic fragrance, or triclosan.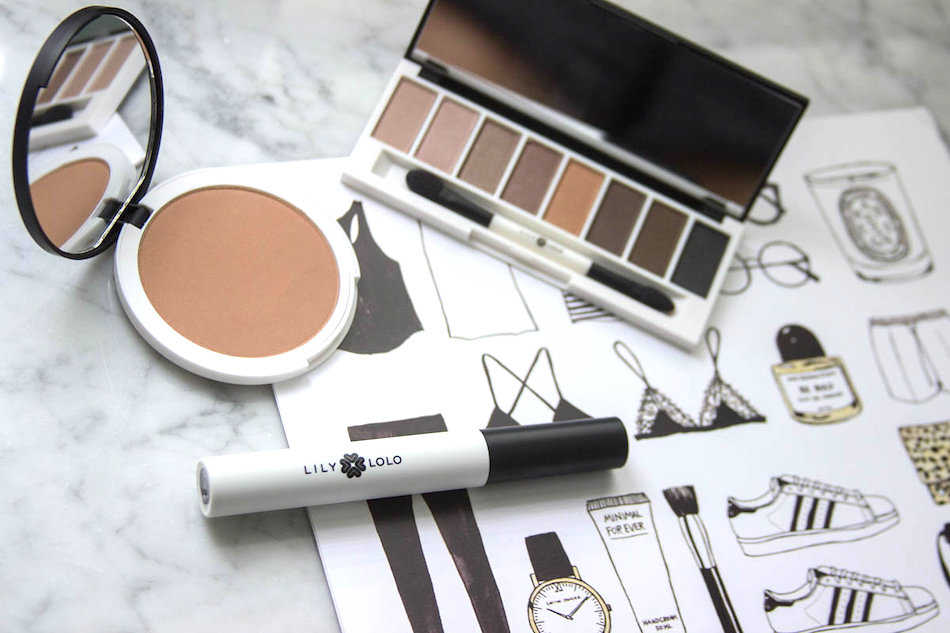 I've used Lily Lolo's Pressed Bronzer in Miami Beach on and off for a while.  I love that it is completely matte (their other two colors have a teeny bit of sheen, just FYI), and the color on me is just deep enough to make a difference without leaving those telltale bronzer streaks, not too orange and not too brown.  Also, hello, it is pressed!  One less loose mineral powder to mess with.  The Sculpt and Glow Contour Duo makes the act of contouring less intimidating (and less scary-looking).  During cooler, dryer months, I tend to reach for a creamy highlighter, but I love the ease of this duo; swipe some bronzer under cheekbones, on the nose and across the forehead, and lightly brush some pressed powder highlighter above cheekbones and on brow bones.  Done.  It doesn't have to be as precise as creamy formulas, and for me, (oily skin in a humid summer climate) it's nice to have a product that absorbs excess oil.  Lily Lolo's Pressed Mineral Blush is also a winner.  Its silky, velvety texture is foolproof to apply, and delivers just the right amount of pigment (I like Burst Your Bubble, which is a matte, medium pink).  All of Lili Lolo's mineral powders are made with pure minerals and completely free of GMO's, nanoparticles, talc, additives, harsh chemicals, parabens, gluten, and bismuth oxychloride – and they also contain a bit of natural SPF.
Lily Lolo's Pressed Eye Shadow Palette in Laid Bare is basically all I need to pack in the eye makeup department when I'm trying to travel light.  The colors are gorgeous and have so much depth.  Some are matte, some have shimmer, and they seem to be universally flattering; This type of pressed mineral eyeshadow palette is rare in the clean beauty world (most are sold as singles, and many are loose powders), but I feel like everyone should have this thing in their arsenal; it's such a no-brainer.  Like the rest of their pressed mineral powders, it goes on evenly and it's easy to build the color for more drama or coverage.
I've also tried Lily Lolo's BB Cream.  It is very moisturizing, but once it's absorbed (about 1 minute after applying) the texture is very light.  The coverage is a little light for me (I like to be able to completely cover discoloration from old acne scars and sun spots), but for someone who just wants to even out their skin and blur minor imperfections, I think it's pretty perfect.  This formula is a hybrid between skincare and makeup; it contains ingredients like shea butter aloe vera, and of course, their signature pure earth minerals.  (I wear Light.)
Is it me, or is summer also lipgloss season?  Lily Lolo Natural Lip Gloss is the perfect consistency; not too sticky, not to oily, and just enough color, this shiny gloss also does a good job of moisturizing.  (I'm wearing Damson Dusk, which seems to be a universally flattering shade.)
Receive a Free Lily Lolo Damson Dusk Lip Gloss ($16 value) with any $45+ purchase at The Choosy Chick that includes Lily Lolo products with code BAREBEAUTY.  (Offer valid only while stock lasts.  Not to be combined with any other coupon codes.)
Also, check out the prices of this line.  They are SO reasonable!  Have you tried my Holy Grail mascara yet?
…..
I've spent almost a decade immersed in the world of green beauty and nontoxic living. I want to help you find everything from a killer lipstick to a nontoxic laundry detergent, and beyond. Subscribe to a healthier lifestyle with me.

Thank you for subscribing!