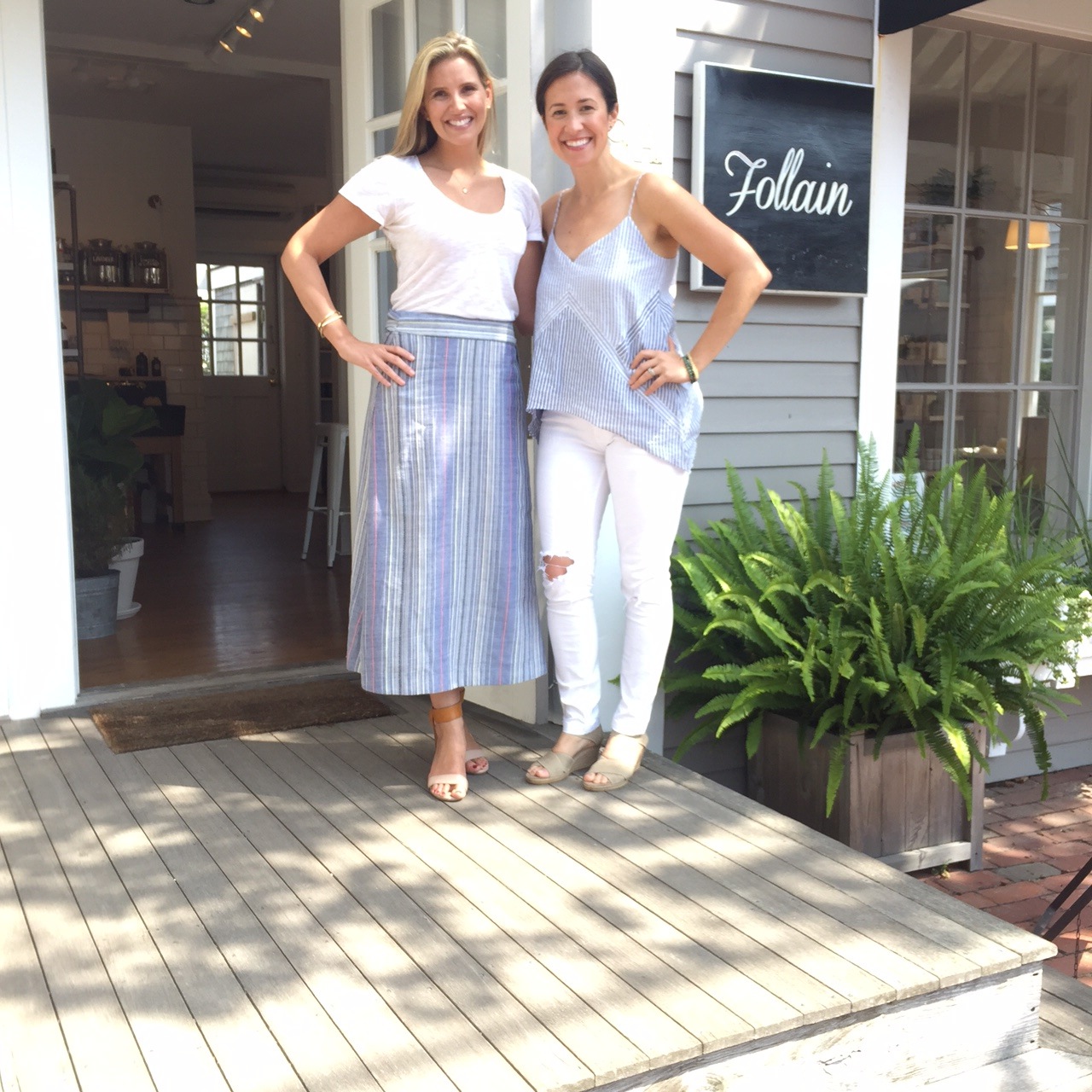 Last month, we took a trip up to Nantucket and rented a house with a few other families.  While it wasn't the most relaxing vacation, (we brought the kiddos with us, duh) we had so much fun, and we did manage to unplug a little bit.  I did manage to steal away to visit Tara Foley, the founder of Follain, at her Nantucket location.  To say that I was impressed is an understatement.  I'm about to geek out on you, 'kay?
Tara's obsession with Green Beauty was first documented on her blog, The Naturalchemyst, back in 2009.  Yes, that's right, she was one of the originals, one of the true pioneers of this movement (please don't call it an industry trend).  By 2013, she turned her Green Beauty dreams into reality when she opened the first Follain in Boston.  These days, there are four locations; two in Boston, one in Washington D.C. and a seasonal location on Nantucket.
First, can we talk about the killer aesthetic they've got going on?  The store was a dream.  Instead of the overstimulating music and lighting, uninformed sales people and cluttered shelves that I tend to witness at other beauty retailers, Follain gives off a calm, collected vibe, and the sales team is A+.
Each location has a gorgeous farm sink where customers can fill and refill their own hand and body soap.  Not only does this cut down on plastic waste, but visitors love the hands-on experience, and the scents change seasonally.  (The soap is a mild castile-like formula.)  I also love the way Follain merchandises.  They do not carry entire product lines; instead, they carry their favorites of each brand, and house products by category (cleansers, sunscreen, etc.).  Then, they organize them even further according to skin type.  It's hard to be indecisive at Follain; they take the guesswork out of shopping for Green Beauty, even for a novice.
During my visit, we hosted a mini-event during which customers could make their own aromatherapy bath soaks with local Nantucket lavender.  A few hours in, my girlfriends showed up sans bébés, (much to their delight) and we basically had a makeover/shopping party, which was SO fun; The girls got makeovers and lots of advice, and left with some pretty fantastic Green Beauty hauls. Here are each of their favorites:
Sally's favorite buy is RMS Beauty Lip 2 Cheek in Demure.  A cooler pink, It gives just the right pop on her cheeks and lips.  She also loves to use her One Love Organics Vitamin B Cleansing Oil before using a foaming face wash to remove all her makeup before bed.  Harriet says that the Josh Rosebrook Hydrating Accelerator is "like spraying delicate rose petals on my face".  She has also become addicted to her W3LL PEOPLE Bio Extreme Lip Gloss (one of my longtime favorites).  Jessica loves RMS Beauty Lip 2 Cheek in Curious because it balances out the pink undertones in her skin and she was gleeful that the W3LL PEOPLE  Nudist Color Balm in #2 reminded her of her old Clinique standby, Black Honey.  My favorite find?  Jane Iredale Brow Gel in Blonde.  It is amazing; full review on that soon.
Thank you to the ladies of Follain!
…..
I've spent almost a decade immersed in the world of green beauty and nontoxic living. I want to help you find everything from a killer lipstick to a nontoxic laundry detergent, and beyond. Subscribe to a healthier lifestyle with me.

Thank you for subscribing!