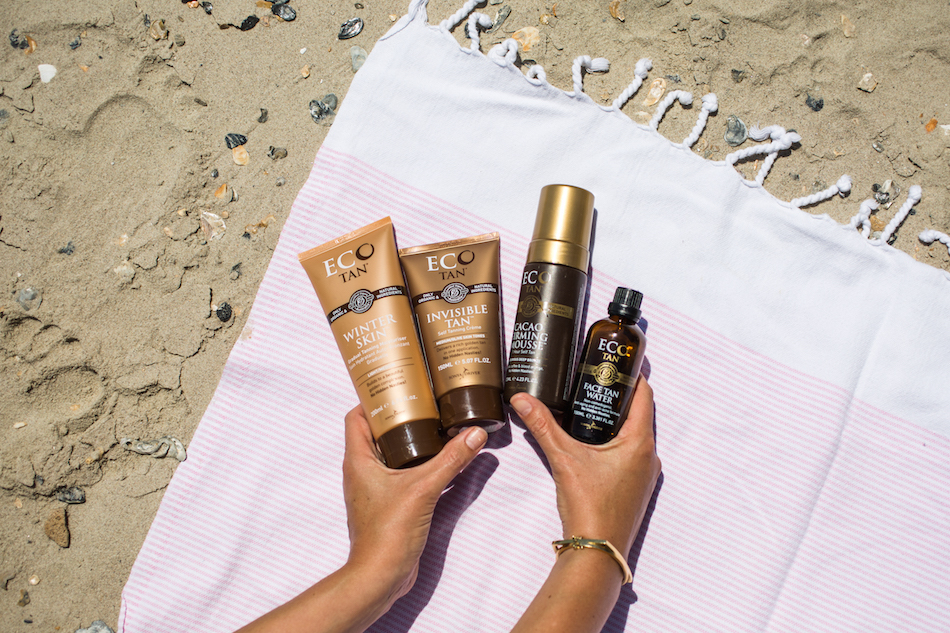 Full disclosure: I love being tan.  However, I'm not in my twenties anymore, and my sun damage is starting to show, so you'll find me using self tanner at night, and lots of SPF during the day.  (See my annual nontoxic sunscreen review here.)  Readers, followers, friends and family have been asking me nonstop lately, what's your favorite nontoxic self tanner?  Definitively, I answer Eco Tan.  There is NO CONTEST.  The Choosy Chick just picked it up this season, and I am so glad!  Besides all the bad stuff that is in conventional body lotion (parabens, silicones, fragrance, dyes, penetration enhancers, etc.) conventional self tanner contains DHA.  DHA can be harmless if derived naturally, but if not, it is toxic when inhaled – I'm talking to you, spray tan-orexics.  Also, DHA makes your skin incredibly susceptible to free radical damage when exposed to the sun, even a day later.  Yikes, isn't that what we all do, put on self tanner the day before we are going into the sun for the first time in six months?
I have to say that Eco Tan Invisible Tan Self Tanning Creme is my all-time favorite.  It goes on just like a body lotion and is absorbed by the skin very readily.  The color develops in 8 hours, so it's perfect to apply before bed, and I've never experienced any streakiness with this formula.  This lotion is best for medium to olive skin tones, and my tan lasts 3-5 days, depending on how much I shower, shave, etc.  Eco Tan uses DHA derived from sugar beets, and the ingredients are very safe.  It is certified organic by Organic Food Chain Australia.  For those who have fairer skin, Eco Tan's Winter Skin Gradual Tanning Moisturizer is perfect.  (This is what I use during the winter if I'm feeling blah, but don't want a full, just-got-back-from-vacation tan.)  And for face, I am obsessed with Eco Tan's Face Tan Water.  The formula is genius; it's a liquid that you apply with a cotton pad, as if you're applying a toner.  I apply it after cleansing, and once it's dry, I follow up with my normal skincare and makeup routine.  It's so easy, and it will absolutely not break you out.  I can see a difference in the color of my skin after using all of these formulas even one time, but if you want to remain tan, I suggest using them twice per week.
A Few Tips:
EXFOLIATE!  Seriously, if you don't exfoliate, you're guaranteed streaks and stained elbows, knees and ankles.  I know that's not the look you are going for.
Speaking of those joints, apply product sparingly there.
Don't apply self-tanner and then immediately put on a white dress.  I've made the mistake and my favorite white shorts are ruined forever.
Carefully wash your hands after application.
Moisturize daily after application to make the tan last longer.  Use soap and body wash sparingly.
All self-tanner smells, period.  Even the ones that claim not to stink leave a lingering odor, at least for me.  I just try to apply before bed (sorry, Richard) and shower up in the morning so no one can smell me at the cocktail party that evening.
Read your labels.  There are so many self tanners out there that are promoting themselves as "Organic".  Trust me, they approach me all the time, and I have to constantly turn them away.  The truth: very few are by my standards.  Do your research, and use your brain, especially if you are pregnant.  EWG is a great resource.
The Choosy Chick also just picked up Ginger Chi, which produces beautiful jade beauty tools.  You can't scroll through Instagram lately without seeing some chick using a jade roller, but there's a good reason why.  They work. Jade rollers have been a secret beauty weapon of Asian women of means for centuries, probably longer.  Jade balances energy and has cooling properties; it also de-puffs, (it promotes lymphatic drainage) tightens skin, and promotes circulation, and it makes products penetrate skin more deeply.  So, whether you had a big night, you feel  "saggy", or you just have a cold, you'll be happy you own one.  I use mine to "roll in" my face oil at night, and I use it on bare skin in the morning to de-puff  while I'm still in bed.  It's very relaxing!  Ginger Chi also makes a great Jade Gua Sha Stone.  This take a little more dedication than the roller, but it is really amazing for aging skin, as it "irons" out fine lines and wrinkles.  (Treatment by Lanshin has a great video tutorial on how to use.)  Last, and this isn't something I've seen before, is the Jade Face Mask.  Whoa.  It's amazing.  Besides the fact that jade is pretty magical for the human body, there is something so relaxing about putting a weighted eye mask on.  I've found it great to mediate in, or put on before going to sleep at night.  The coolness and heaviness of the jade helps relieve sinus issues, closes pores and reduces puffiness and wrinkles.
And, last, INIKA Organic…  I first reviewed Inika a few years ago, and their mineral powder formulas were great, but wow, they've really come a long way since then!  Inika has since launched some great new products that have truly impressed me.  First, their BB Cream has that perfect, sheer, everyday-wear coverage.  This silky, light formula doesn't hide anything, it just evens out skin tone.  (I like a little more coverage, so I wear this under my mineral powder.)  I also love that this formula is skincare-grade; it includes ingredients like Prickly Pear, Pomegranate, Avocado and Jojoba Oils to hydrate skin while mineral pigments provide coverage.  Inika's Pressed Mineral Eye Shadow Duos also wear really well.  They have great color pay-off, so a little goes a long way.  The texture is very silky, they glide on easily, and they don't crease.  At all.  I really like Plum/Pearl and Chocolate/Coffee; they're very easy colors to wear.  Last, their Vegan Long Lash Mascara is pretty amazing.  If you've been following me for any length of time, you know I don't readily hand out compliments about random nontoxic mascaras.  I'm super-picky.  I want length, I want volume, I want zero clumps, and I want it to last all day without smudging or flaking.  It really isn't too much to ask.  Due to its lower viscosity, Inika's Vegan Long Lash Mascara goes on with zero clumps, and it's very build-able.  One coat is enough to leave the house, but you can build up to three coats for a big night out without creating tarantula lashes.  This formula does not smudge for me as long as I use eye cream and not an oily eye serum.  Fair enough.  Deal Alert! Buy an INIKA BB CREAM or Liquid Foundation from The Choosy Chick, and receive a free Long Lash Vegan Mascara in Black ($34 value) with code FREEMASCARA.  Quantities are limited!
I hope you have a dreamy Memorial Day Weekend!
…..
Thank you to The Choosy Chick for partnering on this post.  As always, all opinions are my own.
SaveSave
SaveSave
SaveSave
SaveSave
SaveSave
SaveSave
SaveSave
SaveSave
I've spent almost a decade immersed in the world of green beauty and nontoxic living. I want to help you find everything from a killer lipstick to a nontoxic laundry detergent, and beyond. Subscribe to a healthier lifestyle with me.

Thank you for subscribing!