May is Skin Cancer Awareness Month and it's Memorial Day weekend, (yay!) so it only seems right that I publish my 3rd annual Sunscreen Stars post today.  (Read my others here, here, here, here and here.)  This is my favorite post of the year, every year.  I love the sun; I kind of worship it, actually.  I think a little of it is good for us (most Americans are extremely vitamin D-deficient, not to mention depressed).  However, we do need to protect ourselves and our children.  There are so many options out there these days and all of the terminology and ingredient dos and don'ts can be very overwhelming.  Read on for all of my favorite picks (I've purchased and repurchased all them; they really, truly are the best).  And read on even further for some explanation of why everyone needs to use nontoxic sunscreen and what to look for when shopping for it.
For Body:
The Organic Pharmacy Cellular Protection Sunscreen SPF 18 is the Rolls Royce of natural sunscreens; it's been one of my favorites for years.  This zinc-based formula is hydrating, soothing and has a sheer finish.  SPF 18 may sound a little low, but it actually blocks 94% of the sun's rays.  Cost: $69 for 3.3 oz.
Suntegrity Natural Mineral Sunscreen for Body SPF 30 is simply stellar.  It contains a whopping 20% non-nano zinc oxide, which not only protects from both UVA and UBV rays, but also soothes skin.  The finish is sheer and the formula is moisturizing, but not greasy, and it has a light, natural citrus scent.  This is a solid, nontoxic sunscreen.  Cost: $35 for 5 oz.  They also make an unscented version.
BeautyCounter Broad Spectrum SPF 30 Protect All Over is just awesome, and a great value for the whole family.  Its lightweight, creamy consistency makes it easy to rub in and it goes on sheer, never chalky.  Cost: $26 for 4.8 oz.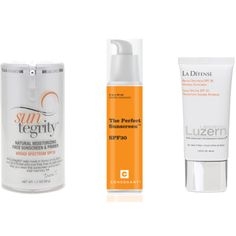 For Face:
Suntegrity Natural Moisturizing Face Sunscreen and Primer SPF 30 has a #1 rating by the EWG (as do all their sunscreens), and for good reason: it is totally nontoxic.  This moisturizing sunscreen goes on sheer and creates a great finish for makeup application, making it ideal for everyday as well as long days in the sun.  Cost: $45 for 1.7 oz.
Consonant Skincare The Perfect Sunscreen SPF 30 is a water-resistant workhorse.  This is a great non-greasy sunscreen for prolonged sun exposure.  It's moisturizing, but a slight, universally flattering mica tint gives a nice matte finish.  Cost: $45 for 2 oz.
Luzern Laboratories La Defense Broad Spectrum Mineral Sunscreen SPF 30 is such an incredible sunscreen for the face.  It is light, yet hydrating, and it is suitable for all skin types.  This totally transparent zinc-based formula contains a powerhouse of active, anti-aging ingredients that boost collagen and elastin and fight discoloration and free radicals, so it's great for everyday wear under makeup as well as a beach day.  And, it smells amazing.  Cost: $45 for 1.7 oz.
For Face, Tinted:
For Child and Baby:
Babo Botanicals is one of my all-time favorite nontoxic product lines for little ones.  Their Clear Zinc Fragrance-Free Sunscreen SPF 30 is perfect, even for those with the most sensitive skin.  This product is vegan, gluten-free, hypo-allergenic, non-comedogenic and totally nontoxic.  Cost: $18.95 for 3 oz.
I also love Babo Botanicals Fragrance-Free Clear Zinc Sport Stick SPF 30 for squirmy little faces and tiny little places.  It is so easy to throw in my purse or in Daddy's pocket.  Cost: $12 for .6 oz.
WHY NONTOXIC SUNSCREEN IS SO IMPORTANT
AND WHAT YOU SHOULD LOOK FOR:
Just as when you are shopping for a body lotion, you should avoid sunscreens that contain parabens, phthalates (both endocrine disruptors), petrolatum and propylene glycol (which are generally toxic to human organs).
If you only remember one thing from this post, let this be it.  With all the Clean, nontoxic, affordable options out there, there is absolutely no reason to use a sunscreen with Oxybenzone.  Oxybenzone is  probably the most popular chemical blocker (it absorbs the sun's rays before they can damage the skin) currently used in conventional sunscreen.  It penetrates the skin very easily, and it can be found in the urine of nearly every American, mother's milk and umbilical cord blood.  Oxybenzone is an endocrine disruptor; it mimics estrogen, has been found to alter sperm count in animals and can interfere with normal fetal and childhood development.  Similar chemical blockers that carry similar hazards are Octinoxate, Homosalate, Avobenzone and Octocrylene.  That said, look for sunscreens that contain zinc oxide and/or titanium dioxide as their active ingredients.  These are "physical blockers"; they literally block the sun's rays from damaging the skin and are very safe.
No matter what ingredients they contain, I personally think aerosol sunscreen sprays should be avoided altogether.  Not only is it too easy to apply too little, or to miss a spot, they pose serious inhalation risks, especially for children who are too young to understand that they must hold their breath while being sprayed.
For more awesome, nerdy science, visit The Environmental Working Group's Guide to Sunscreen.
I hope you have an amazing Memorial Day Weekend and that you get lots of safe time in the sun with the ones you love.  🙂
…..
I've spent almost a decade immersed in the world of green beauty and nontoxic living. I want to help you find everything from a killer lipstick to a nontoxic laundry detergent, and beyond. Subscribe to a healthier lifestyle with me.

Thank you for subscribing!