Memorial Day Weekend is… tomorrow.  Seriously, where did May go?!  I know you probably haven't even thought about what's been sitting in your beach bag for the last year, but it's time to stock up on safe, nontoxic, eco-friendly sunscreen for you and your family.  Every year, we are offered more Clean options, which is great, (!) but some are better than others in the performance department.  Sunscreen Stars is always one of my most popular posts of the year, and it's my personal favorite to write.  I've tried them all, (no, really, all of them) which makes this entry a little long, but it's for your benefit.  There are some coupon codes at the bottom for you, too.  Read on and stock up now, and hopefully the only other choice you'll have to make this summer is between a margarita and a paloma.  Decisions, decisions….
FOR BODY
I get it: you want something that isn't too heavy, greasy or chalky-looking.  Look no further.  (These are all suitable for children as well.)
* *  To be clear, I still prefer to use sunscreen cream or lotion to continuous-spray formulas on small babies and children.  (If you're a new mom, I suggest lathering your little one up before dressing them, before leaving the house.)  I'm SO grateful to have continuous-spray options, and I will most definitely be using them in moderation this summer.  However, I personally don't like the thought of children accidentally inhaling the stuff, and it's easy to miss a spot or apply too little, so these will make great reapplication options for us when we are outdoors.
FOR FACE 
These face sunscreens are strong enough for a day spent outside, but many of them are also suitable for daily use.
These lightweight SPF's are perfect for everyday use, alone, or under makeup.
LIPS, STICKS, POWDERS, ETC.
Because a girl's gotta have accessories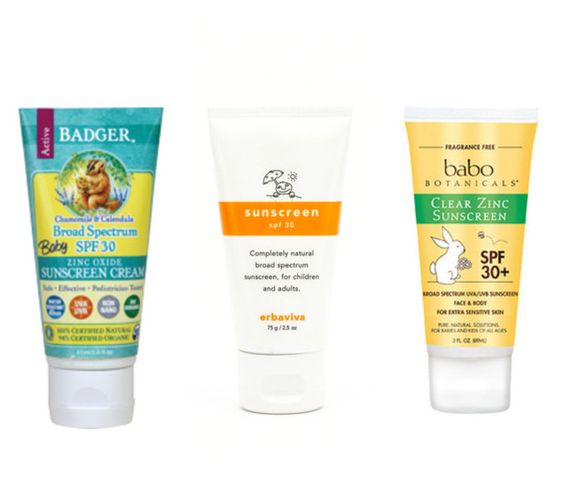 FOR BABY & CHILD 
All of the above picks are absolutely, 100% baby and child-friendly, but in case you want something that's just for them, these are my favorites:
Badger Baby Sunscreen SPF 30 with Chamomile and Calendula: This sunscreen is soothing, super-safe and suitable for even the most sensitive skin.  Non-nano zinc oxide provides up to 40 minutes of water-resistant protection.  It does take some rubbing in to rid baby's skin of the chalkiness factor, but it's never bothered me.
Babo Botanicals Clear Zinc Sunscreen Lotion SPF 30 is perfect, even for those with the most sensitive skin.  This product is vegan, gluten-free, hypo-allergenic, non-comedogenic and totally nontoxic.  Babo Botanicals uses non-nano clear zinc, and is loaded with plant-based ingredients like jojoba, rosehip, green tea and shea butter.
Erbaviva Baby Sunscreen provides up to 80 minutes of water-resistant protection with non-nano zinc oxide.  Light and silky, this formula absorbs readily, and ingredients like lavender, chamomile, aloe and olive oil hydrate and nourish delicate skin.
WHY NONTOXIC SUNSCREEN IS SO IMPORTANT AND WHAT YOU SHOULD LOOK FOR:
Just as when you are shopping for a body lotion, you should avoid sunscreens that contain parabens, phthalates (both endocrine disruptors), petrolatum (a nonrenewable resource) and propylene glycol (generally toxic to human organs).
If you only remember one thing from this post, let this be it:  With all the Clean, nontoxic, affordable options out there, there is absolutely no reason to use a sunscreen with Oxybenzone.  Oxybenzone is  probably the most popular chemical blocker (it absorbs the sun's rays before they can damage the skin) currently used in conventional sunscreen.  It penetrates the skin very easily, and it can be found in the urine of nearly every American, mothers'  breastmilk and umbilical cord blood.  Oxybenzone is an endocrine disruptor; it mimics estrogen, has been found to alter sperm count in animals and can interfere with normal fetal and childhood development.  Similar chemical blockers that carry similar hazards are Octinoxate, Homosalate, Avobenzone and Octocrylene.  That said, look for sunscreens that contain zinc oxide and/or titanium dioxide as their active ingredients.  These are "physical blockers"; they literally block the sun's rays from damaging the skin and are very safe.
Okay, here are all the coupon codes you need to shop your little heart out:
Here's to an amazing Memorial Day Weekend and safe fun in the sun with the ones you love.  ????
…..
I've spent almost a decade immersed in the world of green beauty and nontoxic living. I want to help you find everything from a killer lipstick to a nontoxic laundry detergent, and beyond. Subscribe to a healthier lifestyle with me.

Thank you for subscribing!