If you've been following me for a while now, you know that I am a HUGE fan of Traditional Chinese Medicine, particularly acupuncture and herbalism.  My acupuncturist has taught me so much over the years about the 5 Elements discipline she adheres to, and it absolutely fascinates me.  Traditional Chinese Medicine (TCM) has been around for thousands of years, and it works.  I am living proof, and so are my children (I first turned to acupuncture for fertility issues 6 years ago).  When 5YINA, a luxury, nontoxic, TCM skincare line landed on my radar, I knew I had to try it.
Ancient texts document that TCM was developed from multidisciplinary practices such as botany, biology, astronomy, meteorology, phenology, and philosophy.  The number "5" a the foundation of TCM; along with Yin-Yang, the movement of nature is governed by the five elements: water, wood, fire, earth, and metal.  These five elements correspond to seasons, colors, tastes, directions, sounds, aspects of the soul, and many other categories in the natural world.  5YINA products are synergistically formulated to capture and reflect the essence of each season according to TCM.  These formulas are made to help skin adapt and remain at optimal vitality when in transition between different climates and/or seasons.  The founders, both accomplished practitioners of TCM, believe that if we are dressing for the seasons, and we eating seasonal food, we should also be nourishing our skin with seasonal ingredients as well.  I think they are on to something, because their products are incredible.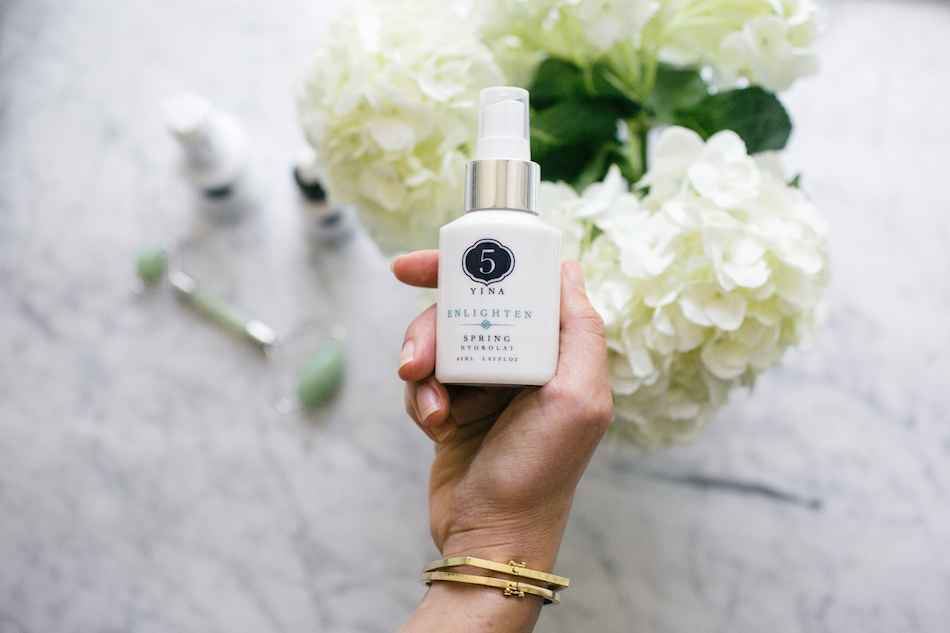 Something else I want to touch on is the modern science that 5YINA employs.  Their botanical extractions are created in-house, in their own lab in California, for maximum freshness and efficacy.  Many ingredients they use are rare and even unavailable commercially.  The botanicals in 5YINA products are organic, wildcrafted, biodynamic, or of highest medicinal grade.  One of the founders is a cancer survivor, which, to me, usually signifies that the ethics of a clean beauty brand are legit and that they are in this business for the right reasons.  The products are also housed in beautiful light-protective alabaster white glass bottles, which can be recycled, and unlike plastic, are nonreactive.  Because 5YINA does not use synthetic preservatives, these bottles are small, (TSA-friendly) and they should be used in 3-6 months after opening to ensure freshness and efficacy.
Each product I've tried has been a delight to the senses – it smells and feels beautiful – and has worked very well.  I really enjoyed using the following products over the last month:
I'm so glad I gave 5YINA a try.  It is so different from anything else on the clean beauty market, and I love that those of us who are fans of Chinese medicine have products we can turn to that work synergistically with our holistic lifestyle.
Have you tried any TCM topicals?
…..
In partnership with 5YINA.
SaveSave
SaveSave
SaveSave
SaveSave
SaveSave
SaveSave
SaveSave
SaveSave
SaveSave
SaveSave
I've spent almost a decade immersed in the world of green beauty and nontoxic living. I want to help you find everything from a killer lipstick to a nontoxic laundry detergent, and beyond. Subscribe to a healthier lifestyle with me.

Thank you for subscribing!