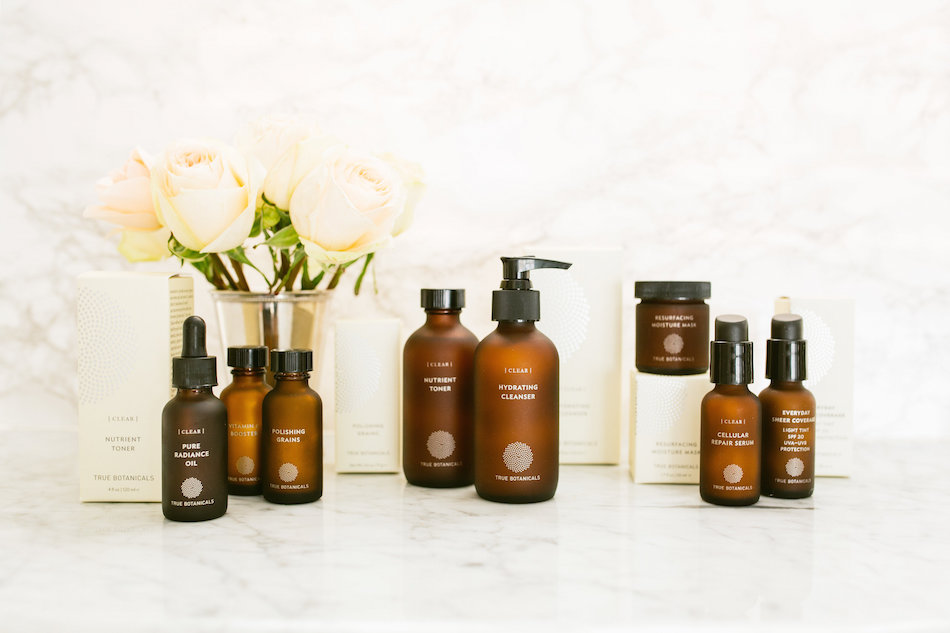 Well, this does not surprise me, or anyone else I know who has tried the CLEAR Collection by True Botanicals, but they recently beat out Proactiv+ in independent clinical trials in combatting both acne and dryness. That's right.  The toxic skincare system that has literally generated billions of dollars in revenue has been beaten out by a nontoxic underdog – a nontoxic underdog that also fights the signs of aging.  By now, most of you know that I'm an utter devotee to True Botanicals, the line that saved my skin 2.5 years ago.  (For almost 3  years, I'd been dealing with terrible hormonal cystic acne that not even prescriptions – that I did not feel comfortable taking – could resolve.  I tried True Botanicals, and the rest is history.  You can read my story here.  (Scroll all the way down for details on a GIVEAWAY.)
The CLEAR Hydrating Cleanser not only hydrates (duh), but it provides a subtle lather and removes makeup and sunscreen effectively.  And, this formula doesn't just combat the signs of aging, it also combats acne.  Black Willow Bark extract exfoliates dry, dead skin cells, fights breakouts and reduces fine lines without irritation, and Helichrysum has antibacterial, anti-fungal and anti-inflammatory properties that both fight infection and promotes healing.  I LOVE this cleanser.  I use this day and night, and when I have time, (like in the shower while shaving my legs) I leave this on my face for a moment before rinsing so that it can really do its job.  Every other day, I combine it with the Polishing Grains to gently and effectively exfoliate.
Many toners formulated for acne-prone skin end up being too harsh for me.  They sting, or dry out my skin, and they definitely don't double as a midday refresh or makeup setting spray.  The CLEAR Nutrient Toner is different.  Black Willow Bark extract exfoliates to keep skin clear; Olive Leaf extract provides antibacterial and anti-inflammatory properties; Sandalwood Hydrosol is antimicrobial and regenerates skin cells.  It also contains Apple Cider Vinegar and Kombucha (but not enough to make it stink!) which are troubled skin's best friends.  I use this day and night.
I immediately follow the toner with 4-6 drops of the CLEAR Pure Radiance Face Oil.  It is lightweight and readily absorbed by the skin and it's packed with anti-acne and anti-aging goodies.  Helichrysum and black cumin oils are both anti-inflammatory and antibacterial; hemp, pumpkin and grape seed oils balance sebum production; a proprietary blend of marine essential fatty acids (harvested from sea vegetables and algae, not fish) keep the skin nice and plump.  I use this day and night, and I feel like I would die without it.
The CLEAR Cellular Repair Serum not only keeps my adult acne at bay, but it strengthens the barrier function of aging skin so I'm not overly dry.  Black Willow Bark extract exfoliates skin and unclogs pores.  Olive Leaf Extract's antimicrobial, anti-inflammatory properties kill off bad bacteria, and its serious antioxidant powers help prevent free radical damage that causes wrinkles.  This serum also contains True Botanicals' proprietary Bioferment, made of fermented algae and seaweeds.  This formula boosts collagen production, and inhibits melanin production, which decreases hyperpigmentation and blotchiness.  I combine this serum with the Vitamin C Booster nightly, and wake up to clearer, less inflamed skin every morning.
A note on Black Willow Bark Extract vs. Salicylic Acid: As many of you know, Salicylic Acid is the synthetic form of Black Willow Extract, and it is not to be used during pregnancy or lactation.  However, Black Willow Extract is considered to be safe.  I used products containing Black Willow Extract during my last pregnancy and felt okay about it, (Annabel seems fine, most of the time, haha) and I used the CLEAR Cellular Repair Serum during the entire time I was pregnant with Woody.  However, I'm not a doctor, and only you know what you are comfortable with.  Consult your physician before starting a new skincare regimen, especially if you are pregnant.
To celebrate the results of the clinical trial, True Botanicals is offering 10% off all CLEAR Kits, and we have also teamed up for a giveaway.  Check out my Instagram profile, @barebeautyblog, to enter.  The winner will receive the complete full-size CLEAR Collection ($346 value).  Hurry and enter, because the winner will be announced on Saturday, April 8, 2017 at 9pm EST!
If you've tried this line, please tell us about your experience in the comments section, below!
…..
I've spent almost a decade immersed in the world of green beauty and nontoxic living. I want to help you find everything from a killer lipstick to a nontoxic laundry detergent, and beyond. Subscribe to a healthier lifestyle with me.

Thank you for subscribing!