Is it me, or does everyone in your house need you, too, at 5pm?  One of the (many) challenges of having a toddler and an infant is dinnertime, especially during that in-between phase where friends are no longer bringing you dinner, but you don't have your act together enough to cook that often, either.  We got tired of takeout quickly, so I decided it was time to try Sun Basket's NEW Family Menu, which feeds 4 people. (Most meal delivery plans only feed 2 people, and if I'm going to "cook", I want Annabel to be able at least try the meal, and I want leftovers the next day for lunch!)  SCROLL DOWN FOR 3 FREE MEALS!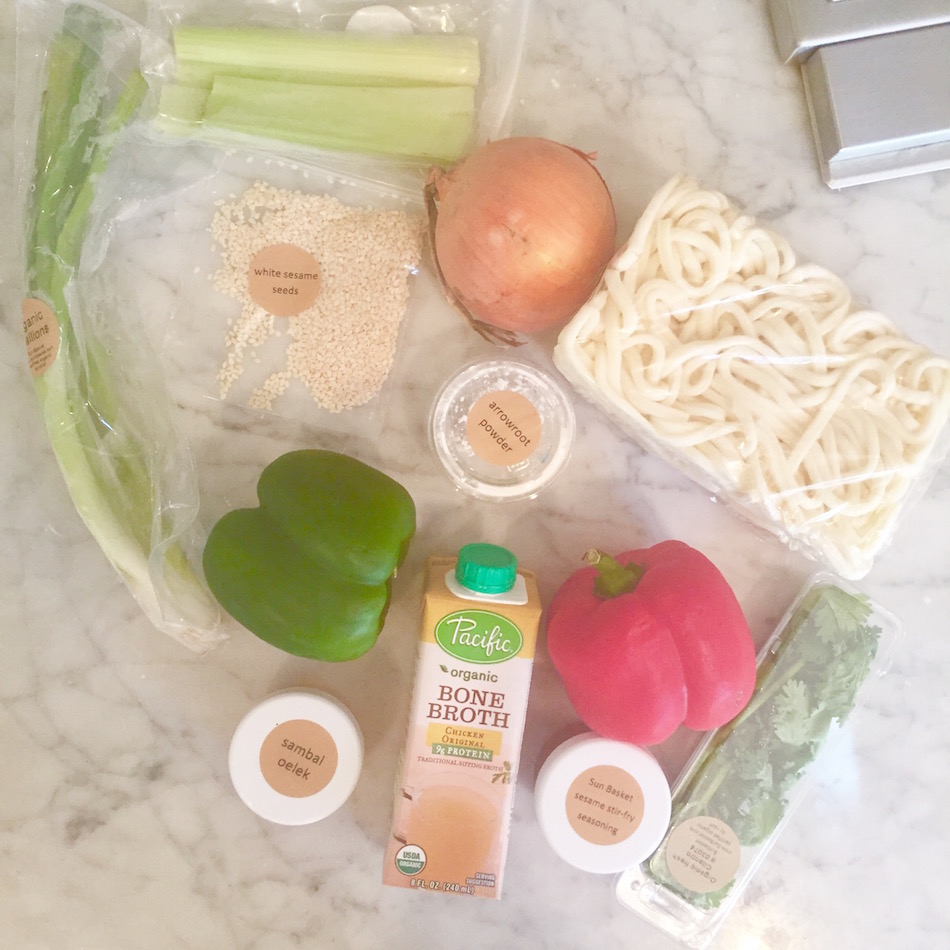 Sun Basket's Family Menu is a healthy meal kit service that delivers sustainably sourced, organic and non-GMO ingredients, and easy delicious, kid-friendly recipes for cooking together at home.  You can choose your meals (which change all the time) each week, and they offer Vegetarian and Gluten-Free options for those of us with dietary restrictions.  I really like the transparent labels, which tell you where your food is coming from, and all the packaging is compostable or recyclable.
We tried 4 Family Menu meals, and they were all interesting, (not necessarily something I'd make on my own) tasty, and very easy to make – they are ready in 30 minutes or less.  I also loved that each recipe included little tasks for the kiddos, like "rinse the chickpeas", or "stir the dressing".  Annabel likes "helping", and she is usually more likely to try something new if she is part of the preparation process.
I'm so glad I reached out to Sun Basket to collaborate, and I will definitely be ordering these again.  I would also totally get this for a friend who just had a baby!  I think the pricing is pretty reasonable; the meals are $9.99 per serving, so our meals were about $40 each.  At first, it sounds kind of expensive, but if you think about it, it's really not.  The ingredients are organic, it's delivered to your door and you don't have to find a recipe.  Done, and done!
Use this link to get 3 FREE MEALS with your first purchase.
So, what's for dinner?
…..
I've spent almost a decade immersed in the world of green beauty and nontoxic living. I want to help you find everything from a killer lipstick to a nontoxic laundry detergent, and beyond. Subscribe to a healthier lifestyle with me.

Thank you for subscribing!