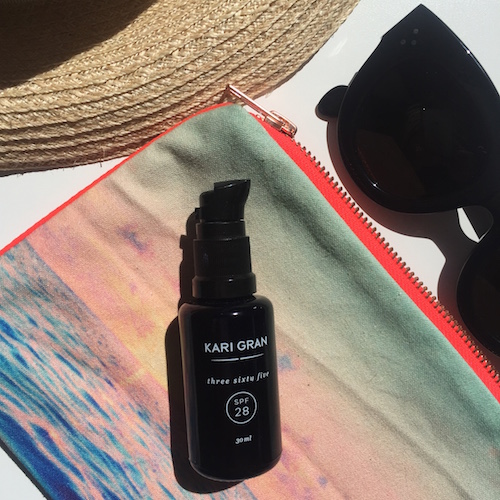 Is anyone else insulted by the Halloween catalogues they're receiving in the mail (like, on so many levels)??  It's still summer!  Margot White, the founder of The Choosy Chick, has shared a few warm-weather gems with me over the last couple of months, and I liked them so much, I feel the need to share them with you, too.  As the mother of four young boys, Margot has a laser focus on safe children's products, and I really admire that The Choosy Chick is not trying to be the chic-est game in town, just the safest.  This woman does her due diligence, and then some, when it comes to researching ingredients, products and brands for her family and yours.
This summer, there has been no shortage of nontoxic sunscreen launches, but I'm NOT complaining.  One is so different from the next, and there is truly a safe option out there for everyone, no matter what you are looking for in a Clean sunscreen.  The new Kari Gran Three Sixty Five is a very unique formula.  If you wish your face serum included SPF, this product was made for you, Ms. Minimalist.  Three Sixty Five is a very moisturizing formula; it features non-nano zinc oxide for an SPF of 28, red raspberry seed oil (which also provides sun protection on its own), macadamia nut oil, French plum oil, and more.  If you have normal to oily skin, like me, this is really all you need in terms of moisture and sun protection.  The formula is easy to apply; it's not thick at all, and it is easily absorbed.  If you have very dry skin, you may want to prep with a face serum or moisturizer.  For such a luxurious formula, I must say that it is incredibly strong and effective; I don't need to reapply that often.  I also love that a little goes a long way, and that it is housed in a a chic glass bottle.  Score!  Another great nontoxic sunscreen!
Hand soap, bug repellant, and hand sanitizer are definitely not the most glamorous products in my house, but let's be honest; it's what our whole family uses almost every single day.  I've been loving Kosmatology's products, and for a limited time, when you spend $25 at The Choosy Chick, use the code LOTIONBAR, and you will receive a FREE Kosmatology Mini Lotion Bar, which is great for your purse, diaper bag or carry-on.  (Kosmatology was founded by a compounding pharmacist determined to create a product for her daughter's eczema in order to avoid the use of steroids.  She created her Lotion Bar, and as they say, the rest is history.)  The Foaming Hand Soap is a real winner; made entirely of plant-based oils, this soap does it's job without stripping away moisture, a little goes a long way, and it smells great.  Another product that I LOVE is the Hand Sanitizer.  My hands feel so clean after using this, and it is completely free of Triclosan, Acrylates/C10-30 Acrylate, synthetic fragrance and chemical thickening agents.  It smells great, and you can't beat the price, either ($3.99 for 2 oz.).  Kosmatology's Bug Repellant Skin Balm is also great when on-the-go, and it works quite well.  I especially like using it on Annabel, as I try to avoid sprays of any kind when it comes to little ones (inhalation issues).
Also, did you catch my post on Ahnesti Haircare's Eterniti Hair & Scalp Refresher?  I've been using it all summer, and it has been such a lifesaver.  I wrote an entire review on it here.  It's a very unique product, and a great alternative to dry shampoo.  You've got to give it a try!
Which products have been your summer lifesavers?
…..
I've spent almost a decade immersed in the world of green beauty and nontoxic living. I want to help you find everything from a killer lipstick to a nontoxic laundry detergent, and beyond. Subscribe to a healthier lifestyle with me.

Thank you for subscribing!