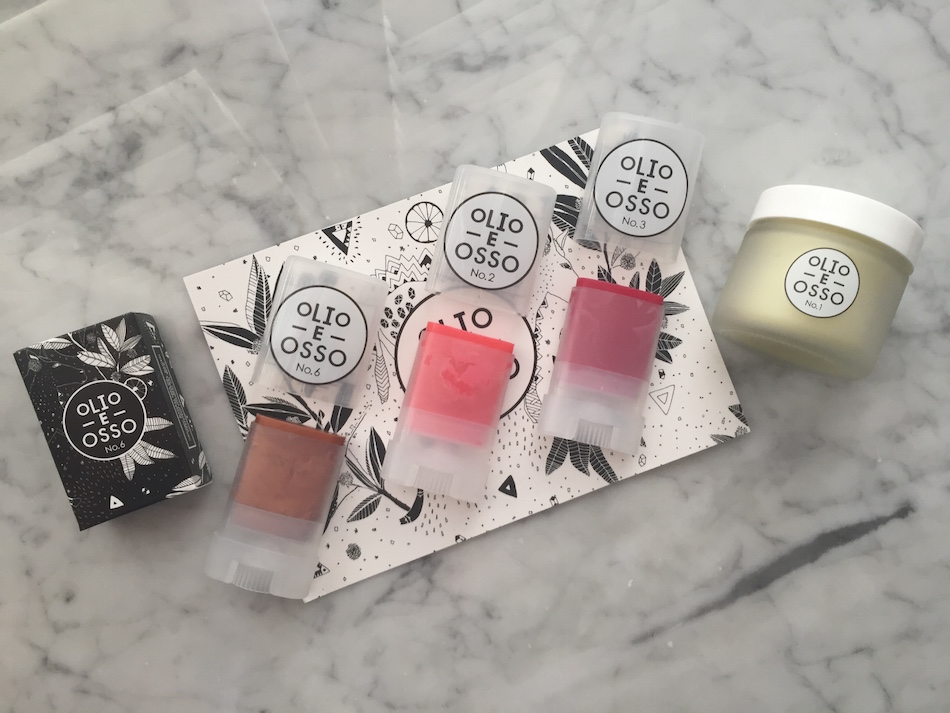 Hope you had a great Memorial Day Weekend!  It's unofficially SUMMATIME, my favorite time of the year.  Dara at Ayla Beauty keeps stocking up on cool, unique products that none of the other clean beauty retailers carry – I can barely keep up, and I love it.  Read on for some new summer lotions and potions that will make you wonder what you ever did without them.
Olio e Osso is a small company based in Portland, Oregon that makes one of the best lip balms I've ever tried.  Olio E Osso's Clear Balm No. 1 has been dubbed the "Swiss army knife of skincare" by The Wall Street Journal, and it's easy to see why.  Made with only organic olive oil, shea oil, beeswax, and grapefruit essential oil, this silky, versatile balm is great for lips, skin, fly-aways, and just about anything else.  Also, their packaging is chic and simple, and super Instagrammable.  😉  The chubby little stick is easy to find in my bag, and doesn't roll off husband's nightstand (I cannot tell you how many lip balms the two of us go through).  Along with their clear balm, I've tried the French Melon, Bronze Shimmer and Crimson.  These tinted balms can be used on lips and cheeks, providing a beautiful, sheer wash of color.  When applied, they don't read "makeup" – this is a product that actually stands up to the term "you-but-better".  This is the perfect little stick for easy, breezy summer beauty.
On to something a bit more complex.  Luzern Laboratories makes some of the best skincare products on the market, in my opinion.   I love that they blend technology with clean, organic ingredients to make safe, super-effective skincare.  I've long loved their La Defense Urban Protect BB Cream SPF 20 and their SPF 30 Urban Protect.  (They are both listed in my annual Sunscreen Stars post.)  Recently, some research has surfaced that effects everyone who is reading this right now.  There is new evidence that chronic exposure to HEV (high energy visible) light, or blue light, (the kind that's emitted from electronic devices) could be generating free radicals in the skin and accelerating melasma.  Oh, $#!+.  This information motivated Luzern to add a few more stellar products to their La Defense Urban Protect line.
Their new La Defense Urban Protect Micellar Cleansing Water is freaking amazing, and I will be using it All. Summer. Long.  Micellar Waters remove makeup and mineral sunscreen using micelles, microscopic spheres that float in the water; used in conjunction with cotton pads, these micelles act like a magnet, attracting and sweeping away oil, makeup, and dirt smoothly and easily. Micellar waters are simple and easy to use, and they're a great first step in a double-cleansing routine — particularly for easily-congested skin that doesn't love oil cleansers and those in hot, sticky climates.  This one is particularly great at combatting pollutants our skin encounters in urban environments; mineral detoxifiers even calm inflamed skin.  This product even increases skin cell turnover, which is helpful for those who tend to get clogged pores.  If you are acne-prone and get anxiety every time you apply thick sunscreen, this stuff is for you (and me).  Also, like many of their products, it smells like melon.  🙂
The La Defense Urban Protect Daily Moisturizer Lotion is light, silky perfection.  This gel-lotion hybrid immediately sinks into skin and doesn't leave a trace behind.  It is an ideal daily moisturizer for younger or oily skin, and it's lightweight texture makes it perfect for layering under sunscreen.  Lutein protects skin from HEV light, Plant polyphenols feed skin with antioxidants and Vitamin C and organic camapu extract even skin tone.
It takes a lot to impress me when it comes to facial masks, but La Defense Urban Protect Detox Mask is one of those do-it-all formulas that has me reaching for it on a weekly basis.  With clays, hyaluronic acid, squalene, and antioxidant-rich botanical extracts like green tea, thyme, and edelweiss, this mask is designed to detoxify and purify skin while simultaneously soothing and hydrating.  Unlike most clay masks, this formula doesn't suck all the moisture from the skin; the texture is more of a clay-oil-gel, so it makes sense that my skin is left soft, smooth, moisturized and glowy.  This is perfect for urbanites who need to actively combat pollutants.
While supplies last, every Luzern purchase of $175+ at Ayla will ship with a Luzern cosmetic bag stuffed with a boxed mini Serum WE3 and a boxed set of Urban Protect Daily Moisturizer Lotion and Detox Masque samples.  Happy shopping!
…..
I've spent almost a decade immersed in the world of green beauty and nontoxic living. I want to help you find everything from a killer lipstick to a nontoxic laundry detergent, and beyond. Subscribe to a healthier lifestyle with me.

Thank you for subscribing!