Let's talk toothpaste.  We have been taught that brushing our teeth is essential to good personal hygiene, so we do it twice a day without even thinking about it.  Something else we've forgotten to think about is just what is in our toothpaste: sodium lauryl sulfate, triclosan and synthetic colors and fragrances.
SLS is often contaminated with 1,4-dioxane, a carcinogen.  Moreover, it is a harsh surfactant – it wreaks havoc on your mucus membranes.  Ever feel like the inside of your mouth is peeling after you brush?  SLS is to blame.
Triclosan was once used only is ER's and OR's, and for good reason, to kill almost every germ in its path.  Now this germ-killer is used in everything, even lipstick, deodorant, and toothpaste.  Some experts say that the overuse of triclosan can lead to super-bugs.  Makes sense to me…
Synthetic fragrances and colors: do we really need them in our toothpaste when mother nature does it best with mint?
Another hotly debated ingredient in conventional toothpaste is fluoride.  The Environmental Working Group published a really helpful article that sums it up here.  Basically, Fluoride is necessary to prevent tooth decay, but there is such thing as too much, especially for pregnant women and children.  In my humble opinion, fluoride belongs on your teeth, not in your body, so I have a heavy-duty household water filter in my home and I go back and forth in using fluoridated toothpaste.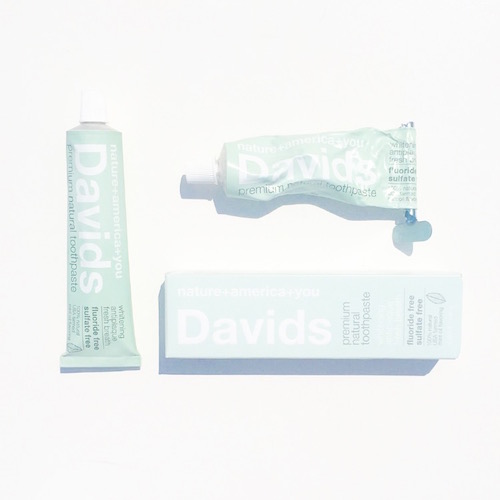 My new favorite is Davids Premium Natural Toothpaste.  It works great, and nothing is safer.  Honestly, I don't know if I can ever go back to anything else, and I think you'll feel the same way once you get through a tube.  (Also, scroll down for a DEAL and a GIVEAWAY.)  Let's take a look at why Davids is superior to so many other toothpastes out there.
Fluoride Free – Davids has chosen to not include fluoride in their formulation, due to health concerns surrounding this ingredient.  Every toothpaste manufacturer that includes fluoride is required to print the following warning label on their packaging: "Keep out of reach of Children under 6 years of age.  If more than used for brushing is accidentally swallowed, get medical help or contact a Poison Control Center right away."
Sulfate Free – (No SLS) – See my beef with this ingredient, above.  Davids has substituted SLS with a more natural ingredient derived from coconut oil (sodium cocoyl glutamate), which is sulfate-free.
No Artificial Flavors, Sweeteners, Colors, or Preservatives –  Davids eliminated the artificial ingredients that are found in most other toothpastes and found safe natural alternates.  The result is a toothpaste that is naturally sweet (not too sweet), naturally flavored, and naturally preserved.
100% USA Farmed Natural Mint Oil Flavoring – Davids partnered with leading mint experts to develop a custom mint flavor, using premium mint oils from various mint growing regions around the United States.  These oils were blended together to create a custom mint flavoring that leaves incredibly fresh minty breath.  Other companies use artificial mint flavoring or inferior imported mint oil.  Once you try Davids toothpaste, you will not want to go back.
Not just MADE IN USA… USA Origin too (big difference!) – While talking to suppliers, Davids discovered that most of the big toothpaste companies buy ingredients that come from overseas (mostly China & India), and mix them in their US factory and stamp "Made in USA" on their package.  At Davids, they use ingredients farmed, mined, and processed in the USA….98% of the ingredients are USA origin (2% Japan), supporting the sustainability of the USA economy and American jobs!  Learn More
Sustainability….Nature+America+You – Environmental sustainability is extremely important, but David's takes a more holistic approach.  They are focused on sustaining the environment through the packaging they use…sustaining the USA economy and American jobs by using the highest possible content of USA origin ingredients and packaging.
Cruelty Free – Davids does not do animal testing in the development of their products.  They are also a member of Leaping Bunny (www.leapingbunny.org), which is a coalition of companies dedicated to the promotion of humane animal treatment.
Also, check out the ingredients:
Calcium Carbonate – Natural material mined from the earth.  Used as a mild abrasive to help prevent plaque buildup, remove surface stains, and whiten & polish teeth.
Purified Water – Used to blend ingredients and give texture.
Sorbitol – Natural sweetener made from corn that keeps toothpaste moist and not dry out during its shelf life.
Sodium Bicarbonate (Baking Soda)– Natural material mined from the earth.  Used to neutralize the plaque forming acids in your mouth. Helps prevent plaque buildup, remove surface stains, and whiten & polish teeth.
Vegetable Glycerin – Davids uses only food grade domestic non-gmo vegetable glycerin derived from vegetable oils ( not to be confused with industrial glycerin or other glycerin products produced from animal fats).  Used to moisten the mouth and enhance the natural mint oil flavor.  Also used  as a natural preservative  to keep the paste moist and to keep the ingredients from separating.
Hydrated Silica – Natural material from the earth that is used to help remove surface stains and whiten & polish teeth.  Others use low quality imported silica with large abrasive particles that can scratch or damage the enamel….Davids uses only the highest quality USA made silica with ultra fine microscopic particles designed to safely clean and polish the enamel on your teeth.
Xylitol (birch derived) – a five-carbon sugar used as a sweetener, but more importantly, has the effect of reducing plaque formation and inhibits enamel demineralization.  They use only a premium USA produced xylitol derived from birch trees, which is considered the best for both you and the environment.  Research studies show that xylitol works to reduce the formation of cavities.
Sodium Cocyl Glutamate – Natural alternative to SLS which is derived from coconut oil and sulfate free.  Used to create a mild foaming action which suspends the other ingredients in your mouth while brushing, helping the cleaning and whitening process.
Carrageenan– Derived from seaweed.  Used to give toothpaste its gel consistency. (NOT to be confused with poligeenan – formerly referred to as degraded carrageenan which causes much confusion).  Learn More
Mint Oil – Derived from natural mint leaves.  Used to give the toothpaste a natural mint flavor to freshen your breath.  They developed a custom blend of ultra premium, USA produced, mint oils from various mint growing regions around the US to create a one of a kind mint flavor that is amazing!
Stevia (Leaf Extract) – Derived from the stevia plant.  Used as a natural sweetener and to further enhance the natural mint oil flavoring.
Check in with me on Instagram (@barebeatuyblog) tonight around 9pm EST for a chance for you and two friends to WIN (2) tubes of Davids Natural Toothpaste each!
And, if you're already sold, use code BAREBEAUTY for a 20% DISCOUNT through 8/31/16.
…..
I've spent almost a decade immersed in the world of green beauty and nontoxic living. I want to help you find everything from a killer lipstick to a nontoxic laundry detergent, and beyond. Subscribe to a healthier lifestyle with me.

Thank you for subscribing!