It's that time of year…
When it comes to tinted moisturizer + SPF, there is a handful of Clean* choices out there.  To me, most of them seem more like "beach day" sunscreens; they just feel a little too thick and heavy for daily use, especially when applied over other skincare products and under makeup.  I finally found a tinted moisturizer with SPF that I actually want to wear daily, and not surprisingly, it is made by one of my absolute favorite skincare lines, Pacific by True Nature Botanicals.  I've been using it for months and I still can't get over how much I love it.
Pacific Everyday Sheer Coverage SPF 20 is straight-up perfection.  I wear it every single day, and I love it's coverage and finish so much that I even use it under my makeup for evenings out.  It's texture is feather-light and almost watery; it sinks right into the skin and dries to a semi-matte, powdery finish.  The coverage is light, (it doesn't cover up freckles) but this product's star ingredient, pearl powder, evens out skin tone, minimizes imperfections and generally illuminates the complexion.  I also love that I can wear makeup over it without looking like I'm wearing a caked-on mask.  Everyday Sheer Coverage SPF 20 comes in Light (which I wear in the Fall/Winter) and Medium (which I wear in the Spring/Summer).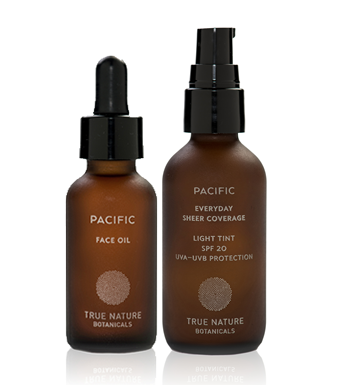 I apply Everyday Sheer Coverage SPF 20 after applying Pacific Balancing Face Oil (which I've reviewed before here).  The combination of these two products seems to moisturize and mattify my complexion simultaneously, which is a dream come true for my combination-oily skin.  (If your skin tends to be on the dry side, try using it under Pacific's original Face Oil.  I have readers who are just as happy with that combination.)  This product works for all skin types, including those who are blemish or rosacea prone as well as those with very sensitive skin.
Pacific is offering a great deal to Bare Beauty readers today through Monday, April 20th. With any purchase of a Desert Island Duet, (which includes Everyday Sheer Coverage SPF 20 as well as your choice of Pacific Face Oil) you'll receive a FREE Pacific Mist, a $48 value (which I reviewed before here).  When checking out, be sure to apply the code BAREBEAUTYSUN and specify whether you want the Original or Balancing Face Oil in the comments section.
Happy shopping and happy sunning!
*Why is Clean sunscreen so important?
Mineral oil.  Petrolatum.  Glycerin (the non-vegetable variety).  Synthetic fragrance.  Parabens.  Dimethicone.  Propylene glycol.  These ingredients have been proven to be endocrine (hormone) disruptors, carcinogens, skin irritants, and toxins that are difficult or impossible for the liver and kidneys to metabolize.  These are probably in your current sunscreen and these are just the inactive ingredients.  The active ingredients in most conventional sunscreen (benzophenone, homosalate, octinoxate, octyl-methoxycinnamate, oxybenzone, PABA, or padimate-O) are chemical blockers, meaning that they absorb UV rays before they can damage your skin. This sounds good, but these chemicals have scary consequences – they can generate free radicals which actually damage the skin.  Also, you'll see that many sunscreens boast "PABA-free" on the front of the bottle. That is because PABA, or padimate-O, is a known carcinogen. Oxybenzone, probably the most popular chemical blocker currently used, is an endocrine (hormone) disruptor. It is easily absorbed into the body, and if you peed into a cup right now, it would be detected in your urine (even if you haven't been using sunscreen lately).
…..
I've spent almost a decade immersed in the world of green beauty and nontoxic living. I want to help you find everything from a killer lipstick to a nontoxic laundry detergent, and beyond. Subscribe to a healthier lifestyle with me.

Thank you for subscribing!