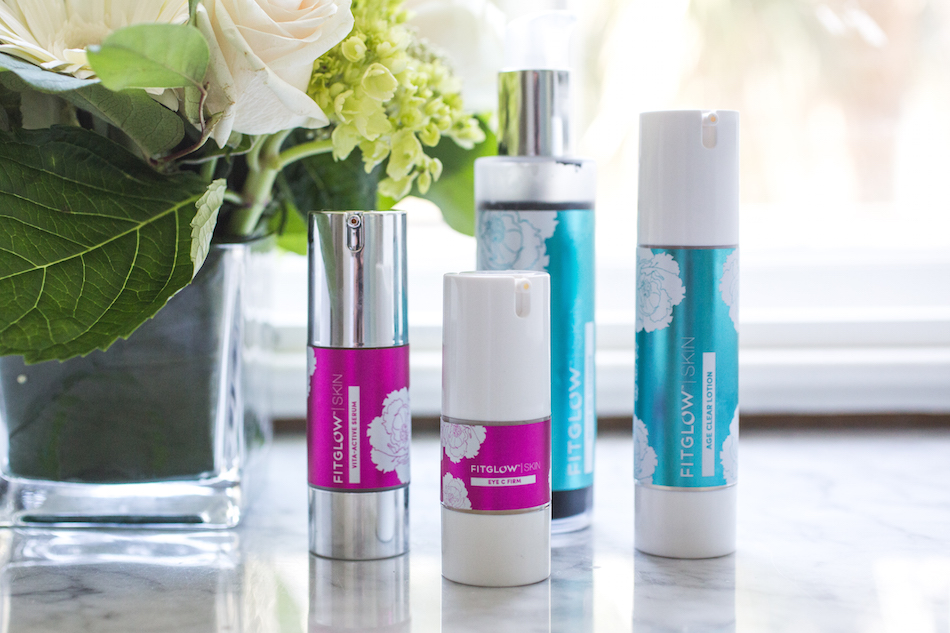 Long ago, I switched over to oil-everything, (oil cleansers, face oils, eye oils) and kissed creams and lotions goodbye.  I usually recommend oils over creams to readers and followers, too.  But, some of you just want a cream.  Some of you still want a face wash that lathers.  I get it.  We all have our preferences.  So, when I became intrigued by Fitglow Beauty, I wasn't deterred by their mostly-cream formulations.  Instead, I was motivated to put it to the test for all you old-schoolers who want clean, effective formulas.  For a whole month, I left my oils on the shelf, and used Fitglow products instead, and I really liked them!  When scanning their ingredients lists,  it is clear that Fitglow has done its own research instead of piggy-backing off of what other brands put out there.  Their products are very unique.  Here is what I tried:
Fitglow Beauty Detox Cleanser lathers into a pleasing foam, and it tingles – not stings – courtesy of mint, which feels great.  Activated Bamboo Charcoal deeply cleanses pore buildup from environmental pollution, makeup and bacteria, and Witch Hazel and Willow Bark Extract boost cell-turnover to keep pore clear, and Aloe Vera soothes, heals and hydrates.  This cleanser does a deep-clean on your complexion without stripping it.
Fitglow Beauty Vita-Active Serum is something special.  I have been in the sun all summer, so I undid all the good it did, but when I used it over the spring, it absolutely brightened my complexion and faded some old sunspots and discoloration from old acne.  I am definitely going to include it in my routine after summer is over.  The founder of Fitglow, Anna, has released photos of her skin before and after using this serum, (she's obviously used it for a very long time) and the results are remarkable.  There are several heavy-hitting ingredients in this formula, including Niacinamide, Purslane, Seaweed Stem Cells, Alpha Arbutun, Astaxanthin, Hyaluronic Acid, COQ10, and Vitamin C.
Fitglow Beauty Age Clear Lotion feels like air.  It is light and sinks into skin immediately, leaving a semi-matte, primer-like finish.  The rare Tonka Bean Bioferment brightens skin while inhibiting bacteria and reducing blemish formation, and just a dash of Willow Bark Extract reduces cell build-up and keeps pores clear.  Other ingredients, like Gotu Kola, protect from free radical damage and reduce skin inflammation while providing amino acids, beta carotene, fatty acids and numerous potent phytonutrients.  This is a great daily lotion for those who are fighting breakouts as well as the first signs of aging.
Fitglow Beauty Eye C Firm Cream is rich, but lightweight, and it absorbs into skin readily – it's not greasy at all.  Caffeine boost microcirculation, peptides smooth fine lines and boost firmness and Vitamin K prevents undereye puffiness while reducing the appearance of veins.  I'm usually not into eye creams, but this one is really good.
I have also been impressed by their Cloud Comfort Cream, Redness Rescue Cream and Lip Colour Serum.  And, their Vegan Good Lash + Mascara has a cult following.  (Full review on all of those here)
I also wanted to mention that my favorite Kari Gran Lip Whip has undergone a packaging face-lift. Isn't it pretty?  Lip Whip is one of my all-time favorite lip balms.  It is goopy in the best possible way; it creates a silky, glossy barrier on the lips, protecting them from the elements and really locking moisture in.  I use the Naked at night before bed, and it's still on my lips in the morning when I wake up.  During the the day, I like Rosie Gold and Tinted.
All of these products are available at Integrity Botanicals.
Thank you to Integrity Botanicals for partnering on this post.  As always, all opinions are my own.
…..
SaveSave
SaveSave
SaveSave
SaveSave
SaveSave
SaveSave
SaveSave
SaveSave
I've spent almost a decade immersed in the world of green beauty and nontoxic living. I want to help you find everything from a killer lipstick to a nontoxic laundry detergent, and beyond. Subscribe to a healthier lifestyle with me.

Thank you for subscribing!