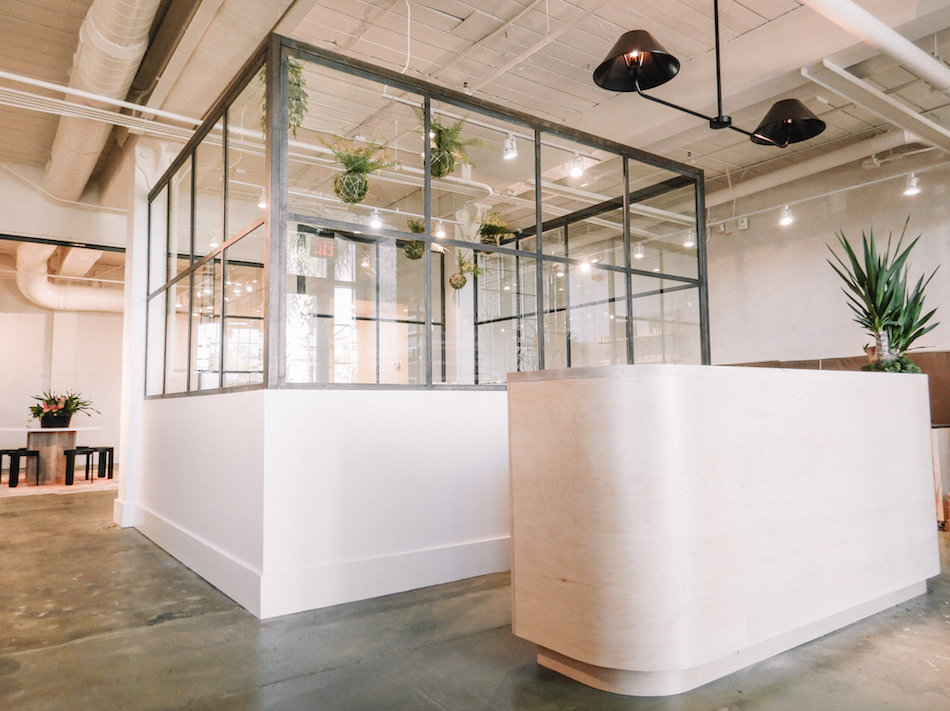 It's been a while, but I'm still here. 🙂 The Water Room officially opened on January 10th, 2019, it's like I had a third baby.  I'm exhausted, overjoyed, SO busy, and I can't even remember what day it is.  Thanks for your patience while I gave it my full attention for the last month.  Just FYI, I have big things in store for Bare Beauty.  I'm in the midst of redesigning my site with the blog design queen, Gadabout Creative.  It's going to be even easier to find what you're looking for and use Bare Beauty as your go-to resource.
For those of you who don't know the story behind The Water Room, you really have to go back to 2011, because that is where it all began.  Not long after I began my transition to nontoxic beauty, my friend, and now partner, Laura Pelzer, had just returned from a business trip to New York City where she attended the soft opening of tenoverten, the pioneer of nontoxic nail salons.  Knowing I was a clean beauty diehard, she raved about it.  The next time I went to new York, it was my first stop.  I came home, and we looked at each other, and we were both like, "we need to open something like this in Charleston".  That was in 2012, and it was just an idea, but we never let it go.  In 2016, we were both ready to bring the concept to life, and we knew Charleston was ready for a better nail salon.  It took some time, but it has been worth the wait.
I'm confident that The Water Room is different from any nail salon you've ever been to.  First of all, the name evolved from our signature architectural element that we've been calling "the water room" for years.  It's where our staff wash, sanitize, sterilize, and prepare all implements and pedicure bowls on full view for everyone to see.  Think of it as an open kitchen in a high end restaurant; guests can watch the rituals that go into our processes because we have nothing to hide.  There is no creepy back room where things may – or may not – be cleaned properly. The Water Room takes sanitation seriously. We use freestanding pedicure bowls – the jets of whirlpool baths at typical salons are breeding grounds for bacteria – which are cleaned with hospital-grade disinfectant after each use. All stainless steel tools (clippers, nippers, and pushers) as well as glass nail files are bagged in pouches with indicator strips and sterilized in an autoclave. (An autoclave is a piece of medical equipment that sterilizes metal and glass implements through the use of high temperatures and high-pressure steam. This process kills all bacteria, viruses, fungi, and spores.)  All non-metal tools, such as buffers and orange wood sticks, are single use.
At The Water Room, we are committed to a fume-free environment for our customers and employees. By not offering Acrylic, SNS Powder, Dip Gel, conventional gel services, or even conventional nail polish, our air quality is much better than at other nail salons. (We also have lots of pretty plants that clean the air in our space.)  We urge you to read the two-part article, Unvarnished, published by The New York Times a few years ago. The exposé examines the unsafe working conditions and potential health risks endured by those employed in conventional nail salons. It is not ok, and we're here to set a new standard.  Speaking of caring about our employees, we really do care.  Our staff work extremely hard, and I can personally attest to the fact that they are all truly lovely people who deserve respect.  We pay them well, we treat them well, and I find it crazy that this is not the norm in the nail service industry.
And, you know I did a deep dive before I selected the products we use and sell!  We only use polishes that are 5-free or better. That means that at a minimum, they are free of the 5 most toxic ingredients commonly found in most conventional nail polish: Formaldehyde, Formaldehyde Resin, Camphor, Dibutyl Phthalate (DBP), and Toluene.  The other products sourced for our signature services are also #barebeautyapproved to be free of all toxic ingredients as well as cruelty-free, gluten-free and vegan.
We also have a private event room.  Most women, ourselves included, love a mani-pedi party, but also want total privacy.  It is next to impossible to rent out an entire nail salon, and most of the hotel spas in Charleston only have two manicure and pedicure stations each.  With Charleston being such a popular destination for weddings and bachelorette parties, adding a private event room seemed like a no-brainer to us.  (The private event room is also available for little girls' birthday parties, corporate team building events, or just because.)  We are still building our staff, but we will be available to book for private events starting this spring.  It's going to be so fun!
If you are local to Charleston, or if you are planning to visit, be sure to enter our giveaway on Instagram (@thewaterroomofficial).  We are giving away a mani-pedi for two friends!  Hurry, I'll be announcing the winner on 2/12.
I hope you're having a great weekend, and I hope we can take care of you at The Water Room soon!
…..
I've spent almost a decade immersed in the world of green beauty and nontoxic living. I want to help you find everything from a killer lipstick to a nontoxic laundry detergent, and beyond. Subscribe to a healthier lifestyle with me.

Thank you for subscribing!