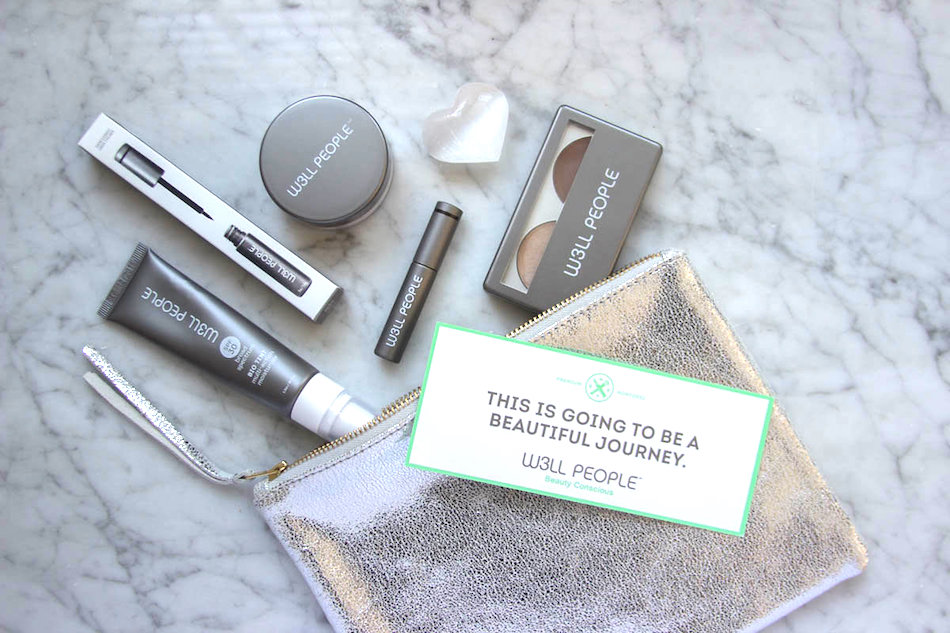 I gotta say, I really love W3LL PEOPLE.  Not only is it one of the brands I trust the most, but the formulas and colors are so user-friendly.  While I try to switch it up for the sake of blogging, it's hard not to reach for their effortless products on a daily basis.  W3LL PEOPLE has just released a few exciting new products, and as usual, they've hit it out of the park.  I appreciate that they really take their time perfecting their formulas before launching them – it's always worth the wait.
For those of you who love winging it with your liquid eyeliner, you will love W3LL PEOPLE's Expressionist Black Liquid Eyeliner.  The fine felt tip glides over eyelids without tugging or dragging, and the formula doesn't smudge, flake or fade.  The color is rich and ink-y, and unlike most liquid eyeliners, it doesn't contain nasty adhesives or petrochemicals.  I've worn it multiple times the last 4+ weeks and it's performed very well.
W3LL PEOPLE also recently reformulated their Bio Brightener Invisible Powder to include fresh water pearl powder and micronized pigments for a super-fine finish.  It does a beautiful job of softening, blending and blurring imperfections, and the totally translucent formula makes all complexions look luminous.  I use it every single day, and when I run out, I panic.  I like to apply it over my under-eye concealer to set it, or over tinted moisturizer or foundation to set and eliminate shine while still providing a little luminosity.  I loved the original formula, but the new one is even better!
My favorite of W3LL PEOPLE's new releases is the Bio Tint Multi Action Moisturizer SPF 30.  As I've said many times before, I am always on the hunt for the next best tinted moisturizer with SPF.  I use True Botanicals Everyday Sheer Coverage SPF 20 on a daily basis, which I love, but I still have some leftover discoloration from the sun and my cystic acne days; sometimes I feel like I need more coverage than it provides.  For long days in the sun, I use Suntegrity 5-in-1 Natural Moisturizing Tinted Face Sunscreen, but having oily skin and living in a humid climate, it can feel a bit heavy at times.  W3LL PEOPLE fills this gap for me.  Broccoli Seed Oil takes the place of the dimethicone found in most primers/bb creams/tinted SPF's, perfecting the skin's surface and leaving it smooth and primed.  I do have to wait just one minute for it to "sink in", but once it does, the finish is satin and flawless – not too matte, not too dewy, and definitely not heavy-feeling or looking.  Premium natural pigments correct skin imperfections/uneven skin tone, and clean, safe, natural pure zinc protects skin from harmful UVA/UVB rays.  I wear Medium.  Also worth noting: the packaging is made of recycled plastic and it uses airless pump technology to preserve the formula for a longer shelf life.
I've long been a fan of W3LL PEOPLE's Bio Bronzer Stick and Bio Brightener Stick, so the launch of the Natural Contour and Highlight Duo is a welcome addition to the collection.  I love the travel-friendly compact, which includes a mirror; it's great while on the go.  I'm not a huge fan of an overly-contoured face, and neither is Shirley Pinkson, W3LL PEOPLE's creative director.  I like to use their not-at-all orange cream bronzer below cheekbones, around my hairline and on the sides of my nose (especially while I was pregnant -my nose became really wide, and almost puffy, ick).  I use the cream highlighter – which is not too white, too sparkly, or too shiny – along the brown bone and cheekbone, the inner corners of my eyes and a tiny bit on the bridge of my nose.  Done!  In about 15 seconds, no less.  These formulas are not only the perfect shade for any skin tone, they moisturize while absorbing excess oil; their weight and consistency are perfect.
A few of my other W3LL PEOPLE favorites are the Bio Correct Concealer, the Nudist Color Balm, the Bio Bronzer Powder, Bio Extreme Lipgloss and the Hypnotist Eyeliner.  I've written glowing reviews about all of them in the past.
You can now purchase W3LL PEOPLE at over 200 Target locations nationwide, or if you prefer to shop online like I do, you can find this favorite brand of mine at Safe & Chic (where you can take 10% off with code BAREBEAUTY) and Integrity Botanicals.
What are your favorite W3LL PEOPLE products?
 …..
I've spent almost a decade immersed in the world of green beauty and nontoxic living. I want to help you find everything from a killer lipstick to a nontoxic laundry detergent, and beyond. Subscribe to a healthier lifestyle with me.

Thank you for subscribing!