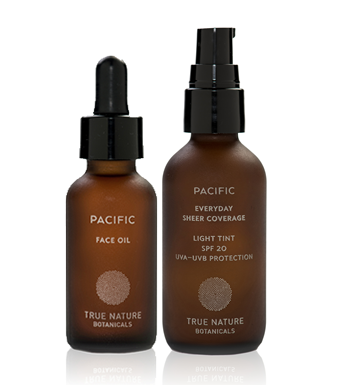 Last Monday, I reviewed Pacific Everyday Sheer Coverage SPF 20 by True Nature Botanicals.  Make sure you read it; this is the best daily tinted moisturizer with SPF I've ever used and TNB is offering an awesome deal through Monday, April 20!
Purchase a Desert Island Duet, (which includes Everyday Sheer Coverage SPF 20 in Light or Medium and Face Oil or Balancing Face Oil) and receive a full-size Pacific Mist (a $48 value) for FREE.  I've also reviewed the Mist; you can read that here.
Make sure you enter the code BAREBEAUTYSUN at checkout and include which oil you prefer in the comments section.
If you happen to be in a spendy-spend mood, you should also look into the Pacific Products that transformed my skin, the Anti-aging Wrinkle Duet.  This 1-2 punch knocks out both fine lines and acne in just a week.  I've never used anything like it.
It has been pretty dreary here in Charleston.  It's rained almost every day this week and I am so over it!  Annabel and I had to make our own fun yesterday.  Since we both wished we were at Coachella instead of being stuck inside the house, I put the Coachella YouTube channel on, dressed her in hipster gear, and brought out every instrument I could find and we had a raging dance party.  I got zero work done, but I figure she is only young once, and we had so much fun.  I snapped a few pics, of course.
Happy Weekend!
…..
I've spent almost a decade immersed in the world of green beauty and nontoxic living. I want to help you find everything from a killer lipstick to a nontoxic laundry detergent, and beyond. Subscribe to a healthier lifestyle with me.

Thank you for subscribing!