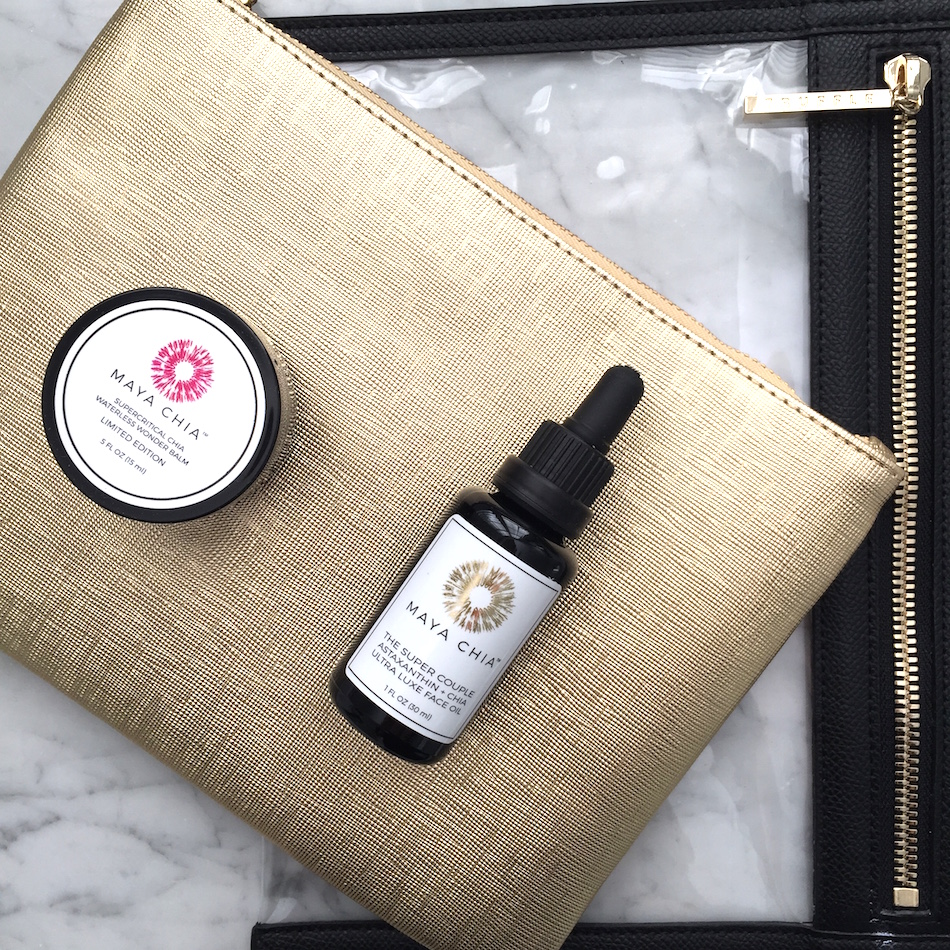 Happy New Year, Bare Beauties!  I hope you had a wonderful holiday with the people you love and I hope you got some rest, too.  I must thank you for letting me go M.I.A. for two weeks – I really needed a break.  Christmas was super magical for Annabel this year, which made pushing my third-trimester-self to the limit to get everything done well worth it.  However, if you ask me to put on a cocktail dress for the remainder of this pregnancy, I may kill you.  Just a warning.
Beauty Heroes started the year off right by introducing one of my favorite product lines, Maya Chia.  I've been a fan for over a year, you can read past reviews here and here.  The founder of Maya Chia, Susanne Norwitz, is a fellow Charlestonian, and I have so much respect for her.  She has a master's degree from Harvard University, used to head up the speech-writing department for former Mayor Rudy Giuliani, and has held senior communications positions at Fortune-100 companies.  A smart cookie to say the least.  However, she left that fast-paced life behind for something that has pulled at her since childhood – the Mayan people of Guatemala.  Susanne's father, a surgeon, traveled there to perform cleft-palate operations when she was a child.  Years later, Susanne became stepmother to her husband's children, who were born in Guatemala.  So, when the chia seeds called, she answered.
Maya Chia's original product, the one that got me hooked, is Maya Chia's Pure Supercritical Omega-3 Chia Oil, which is one of the most light-weight face serums I've ever tried.  It is absorbed in an instant.  However, it's also incredibly moisturizing.  I can't think of a skin type that wouldn't benefit from it.  Chia is the richest known plant source  of omegas, antioxidants and minerals in the world, so it's wonderful for those with aging skin, but it's also great for those who need to balance combination skin or those with sensitive skin, as it contains only 2% essential oils.
This month's hero product steps it up a notch from there, however.  The Super Couple Ultra Luxe Face Serum is certainly one of the best multi-active facial serums I've tried; it pairs the same chia oil with the natural antioxidant astaxanthin (from a micro algae plant), which is 65x stronger that Vitamin C and 14X stronger that Vitamin E in combating free radicals.  Together, they increase firmness and resiliency as well as inhibit melanin production, increasing brightness and tone.  It's also pink in color and sinks into skin in an instant, so while it's improving my skin in the long-term, my complexion truly glows when I use it.  Other super-effective ingredients include jasmine, Bulgarian rose, Australian sandalwood, rosewood, carrot seed, lavender, cistus, frankincense, myrrh and chamomile.
This month's sidekick is Maya Chia's Waterless Wonder Balm, and the scent is a limited edition made just for Beauty Heroes.  The aromatherapy benefits from with grounding lavender and vetiver, patchouli, rose geranium, cardamom and chamomile can be noticed immediately upon use.  I've been using it in place of hand cream at night before bed; I just love it.  The formula melts right into the skin, moisturizing deeply, and really making a difference.  It's also great for lips, feet, even the face – anywhere that is dry, chapped, and needs some extra TLC.
What else sets Maya Chia apart?  Maya Chia's oils contain all-natural, non-gmo supercritical chia oil prepared using their own patented, gentle
 supercritical process to extract the oil to ensure its purity, potency and to retain all its benefits.  No other company in the United States has access to this patented process.  Maya Chia also gives 10% of their profits to Adopt-a-Village in Guatemala, which improves the health, education and economic conditions of the Maya people.
You can sign up for their the Beauty Heroes Box here, and as long as it's not sold out, if you signup before the 20th, you will receive this month's box with Maya Chia.  As always, this month's box is also a great value; The Super Couple alone normally retails for $85, and the total value of the box is $97.  Members get the box for less than $40!  You can also shop for Maya Chia and other brand favorites at the Beauty Heroes Beauty Shop (members get 10% off everything in the shop, everyday).  If you've been wanting to try a new multi-active, super–effective face serum that doesn't break the bank, now is your chance!
Happy New Year!
…..
I've spent almost a decade immersed in the world of green beauty and nontoxic living. I want to help you find everything from a killer lipstick to a nontoxic laundry detergent, and beyond. Subscribe to a healthier lifestyle with me.

Thank you for subscribing!