With the 12 DAYS OF GIVEAWAYS officially over, I thought I'd give you a few quick ideas for last-minute gifts.  I know you need some, and I know a lot of you still have a lot of shopping left to do (myself included – I AM the cobbler with no shoes).  I'm also including a few shipping deadlines for all the procrastinators out there (hint: basically, it's today.  Set aside 30 minutes and get your orders in!)
Speaking of perfect last-minute gifts, a Beauty Heroes membership would be an awesome surprise, and you don't even need to wrap it.  This month's Beauty Hero is MUN's new Akwi Purifying Cleanser.  This gentle, light, oil-based cleanser is of the same caliber as One Love Organics Vitamin B Cleansing Oil & Makeup Remover, in my opinion.  (I'm very picky about cleansing oils; I like them to rinse off, at least a little.)  Akwi's ingredients include a blend of oils such as Argan, Camellia seed, rice bran oil and more, but because it's not 100% oil, it still translates into a very light cleanser. 6-8 pumps of the cleanser massaged on your dry skin really loosens up makeup, sunscreen, and other grime. Then rinse with warm water and your skin is clean, but it's also left beautifully moisturized. The cleanser's milky, emulsified consistency makes it quite easy to rinse off; I think this cleanser would be perfect for those who are new to oil cleansing or those with more oil, breakout-prone skin, like myself.  For a deeper clean, you can use a warm washcloth- just press into your skin until it cools and you can use it to wipe any remaining residue away.  That brings me to this month's awesome side kick: MŪN's special edition Ikeuchi Organic Cleansing Towel.  Ikeuchi Organics is a Japanese company that weaves organic cotton, bamboo and compostable rayon towels and uses low-impact dyes.  So, not only are they attrative and feel great on the skin, but they are incredible eco-friendly, too.  Using the cleanser and washcloth together makes me slow down and really pay attention to my skin.  It's actually kind of relaxing.  As always, this month's Beauty Hero and Sidekick are available to member for less than $40, but they retail for a total of $72.  Beauty Heroes is also offering members a gift of $20 towards any MŪN purchase from their Beauty Store. A card with all of the details for that will be included in your box this month.  Today is the last day to order this month's Beauty Hero, so don't wait!
True Botanicals always knocks it out of the park.  Their products are so effective, clean and luxurious, and I truly believe they are worth every penny.  Their new Body Balms are no exception.  I've been trying to take better care of my pregnant self lately, and applying one of these balms after taking a bath feels like the ultimate luxury.  Each scent is more beautiful than the next, but I'd have to say that Oud is my favorite.
With enough product to last about two weeks, True Botanicals Essentials Trial Kits will have them hooked on a whole new, clean skincare regimen.  It gives the recipient of the gift a good idea of how transformative these products truly are.  The Duet Trial Kits include two weeks worth of True Botanicals' must-have mist and face oil,  and they are very budget-friendly.  Both types of Trial Kits can be chosen based upon skin type: RENEW, CALM or CLEAR.  True Botanicals is also offering gift cards, in case you want to get me one.  😉  The last day to order in time for Christmas is today, 12/19/16, so hurry!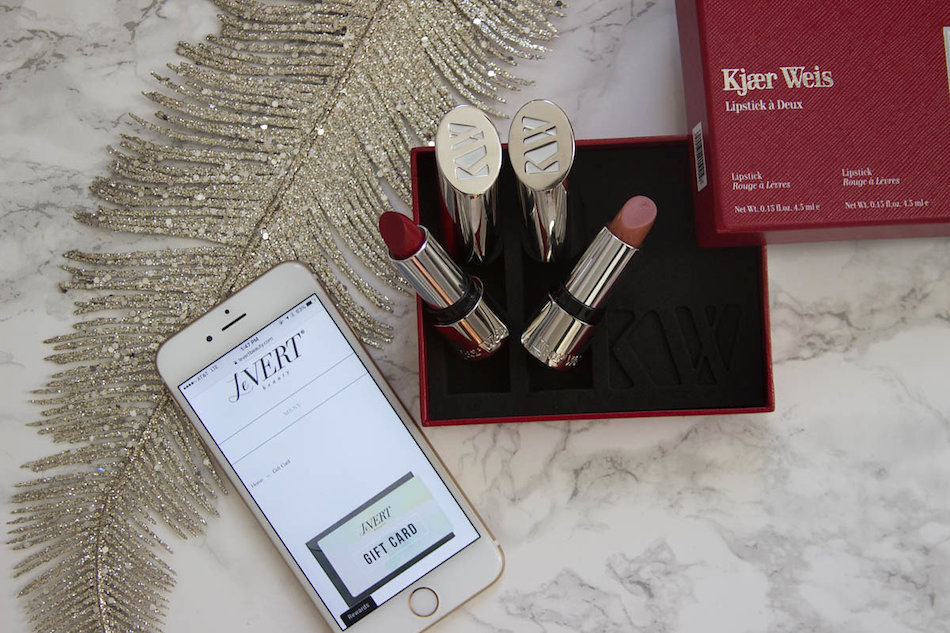 LeVert Beauty has lots of great gifts, which is why I linked to them heavy in my Holiday Gift Guides, and their shipping deadline is also 12/19/16.  I particularly love the new Kjaer Weis Lipstick a Deux gift set, which includes their *perfect* red and nude lipsticks.  I've also loved the Henné Organics Lip Collection and the By Rosie Jane Seasons Gift Set, which is a great price point.  E-gift cards are also available and never arrive too late.
I really cannot tell you enough how much I love my silk pillowcase from The Goodnight Co. that I got from Ayla Beauty.  This would make the perfect gift for anyone – any skin type, any hair type – who wants to wake up looking and feeling better.  I honestly sleep better on this pillowcase and I wake up with less creases in my skin and less kinks in my hair.  It's a thoughtful, luxurious product, and something that not many people would buy for themselves.  Another thoughtful, unique gift idea would be the Les Fleurs de Bach Flower Essences.  These are so special, and truly work for stressed-out, tired, anxious, humans, and isn't that most of us?  Order by end of day, 12/19/16 to receive in time for Christmas!
Tata Harper always makes gorgeous, covetable gift sets, and this holiday season was no exception.  One of my longtime favorites has been their Aromatic Mood Therapy Collection; I personally use these little aromaherapy roller-balls when I'm on the go, which is a lot.  Other gift sets I've loved are their Luminous Glow Collection, which is a great price point, and the Multi Masking Collection, which would work for any skin type.  Tata Harper has a few express shipping options that will save your @$$ up until later this week, too.  🙂
Make someone's (healthy) day with a Daily Harvest Gift Subscription; they range from $50 to $200, so there is an option for every budget.  I first blogged about this amazing smoothie company here, and I am still obsessed with their products.  I will totally be signing back up once I have this baby and I'm too busy/tired to think of healthy snacks to keep me alive through my time on Infant Island.
Hope this post eases your shopping dilemmas a little!  Remember, it really is the most wonderful time of the year!  🙂
…..
I've spent almost a decade immersed in the world of green beauty and nontoxic living. I want to help you find everything from a killer lipstick to a nontoxic laundry detergent, and beyond. Subscribe to a healthier lifestyle with me.

Thank you for subscribing!