Hi There!  We had such a great trip out to San Francisco recently, and you know I have to fit a few Green Beauty-musts into any vacation, so I thought I'd type up a quick recap.  In summary, I love California more every time I visit, and Napa Valley just might be my non-beach-destination-happy-place.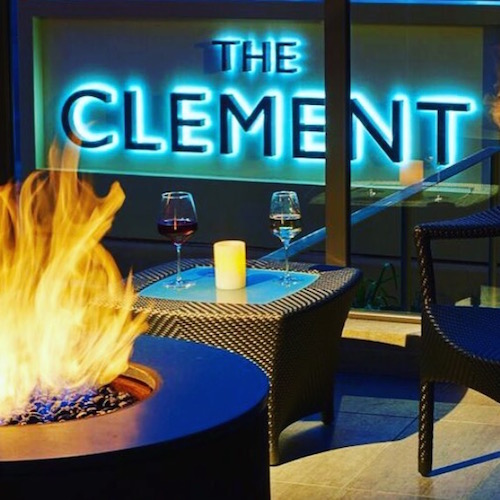 First up was a family wedding weekend in Palo Alto, and we stayed at The Clement Hotel, which was impeccable.  The Clement is all-inclusive – I know, I know, if you're a snob like me, this conjures up images of stale dinner buffets, cheap alcohol, threadbare sheets and an elusive staff.  However, The Clement is trying to bring the all-inclusive mindset to the luxury realm, and they are more than achieving that goal.  It is honestly one of the nicest hotels I've stayed in anywhere in the world.  They have a gorgeous open kitchen, (I made myself a midnight snack once or twice) they cleaned 4 (!) pairs of our shoes, steamed our wrinkled clothes, poured us unlimited, high quality wine, brought us breakfast at the pool, the list goes on – and it was all included in the price of our nightly room rate.  If you find yourself in Palo Alto/Menlo/Atherton, you MUST stay there.  It is worth every penny.
The wedding was at the beautiful Menlo Country Club and the bride, Katie, was stunning.  Doesn't she look like the classic Estée Lauder Beautiful ad?  The groom, Tucker, is Richard's cousin, and his speech at the rehearsal dinner left not one dry eye in the house.  Sigh…..  I love weddings.
Oh, and I'm 16 weeks pregnant with a little boy!  But, more on that in a later post.  🙂
I drove into San Francisco to visit my favorite pen pal, Dara Kennedy, whose is the founder of Ayla Beauty.  She is even more beautiful in person, and her skin glows.  Add that to the fact that she's one of the most intelligent and experienced people I've met in the Green Beauty industry, and I will try anything she sends my way.  (I'm testing this line right now, and all I have to say is OUI.)  Her team is very knowledgable and small, with very little turnover, which means that you always get top-notch service, and they really get to know your skincare needs; if you've never done their personal skincare assessment, you are missing out!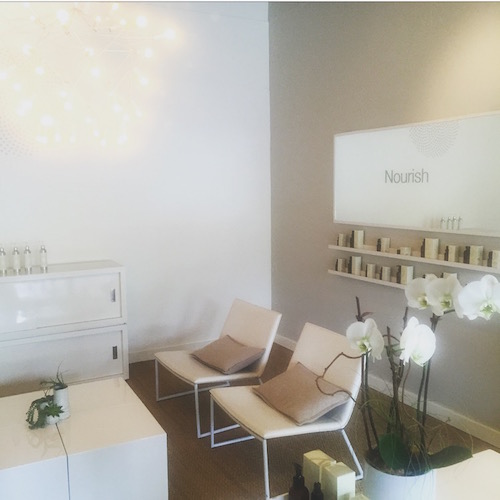 I also made it up to Mill Valley to see my friends at True Botanicals.  (I'm a devotee; their products saved my skin two years ago.)  I love how this company continues to grow and change and improve.  Kevin took one look at my (pregnant, break-out prone) skin and declared, "you need to be using the Resurfacing Moisture Mask more often!"  Hahaha.  He is so right.  I've gotten so lazy about masking lately, and that mask is a total lifesaver if used regularly.  True Botanicals just launched body wash and body lotion, which are both great.  Stay tuned for a full review on those.
On Sunday, Richard and I headed up to Napa Valley for some R&R.  We stayed at the beautiful Calistoga Ranch, which is an Auberge property.  Did you know that Auberge hotels use True Botanicals products in their spas, specifically, in their facial treatments?  I hadn't had a facial in at least four months, and I was dying to experience True Botanicals' "back-bar" products (formulas made exclusively for their spa partners), so I didn't hesitate to book a facial, and I was not disappointed.  My esthetician, Susan, was so knowledgeable, and it was definitely one of the best facials I've ever had.  Without even letting her know what Kevin said to me a few days before, Susan told me I needed to use the Resurfacing Moisture Mask more often.  I guess I really do need to step up my masking game!
On Monday, we went wine tasting, and without a doubt, the highlight of our day was visiting April Gargiulo (founder of Vintner's Daughter) at her family vineyard.  First, Gargiulo Vineyards is GORGEOUS; the buildings, the decor, the gardens, the vineyard, the topography, April herself, everything!  It was absolutely mesmerizing.  Second, their wines ruined us for the rest of the day.  They are made with organic, dry-farmed grapes (the vineyard is not irrigated beyond natural rainfall), and they make only 900 cases of each of their wines per year; this is the wine-world equivalent of "small-batch".  April and I also gabbed about Green Beauty, and possible new product launches from Vintner's Daughter.  I love that her standards are ridiculously high; we won't see any additional formulas from this brand unless they are miraculous  (like the original Vintner's Daughter Active Botanical Face Serum, which is one of my all-time favorite face serums).  April doesn't want to put anything out there unless it brightens, tightens, lightens, unclogs, evens, exfoliates, strengthens, protects, stimulates, calms, and births your babies for you.  A girl after my own heart.
I'm already planing a trip to go back out to Napa Valley next year; it is a truly magical place with so much beauty.  Next time, I will really be able to *enjoy* wine tasting (taking one tiny sip of each was such a tease!), and there are also some great hiking trails that I want to check out.  However, we were so happy to get home to our little Annabel, who immediately asked if we had fun, and wanted to know how her baby brother was doing.  Well, just melt my heart, why don't ya'…
What are your favorite destinations in the Bay Area and Napa Valley?
…..
I've spent almost a decade immersed in the world of green beauty and nontoxic living. I want to help you find everything from a killer lipstick to a nontoxic laundry detergent, and beyond. Subscribe to a healthier lifestyle with me.

Thank you for subscribing!